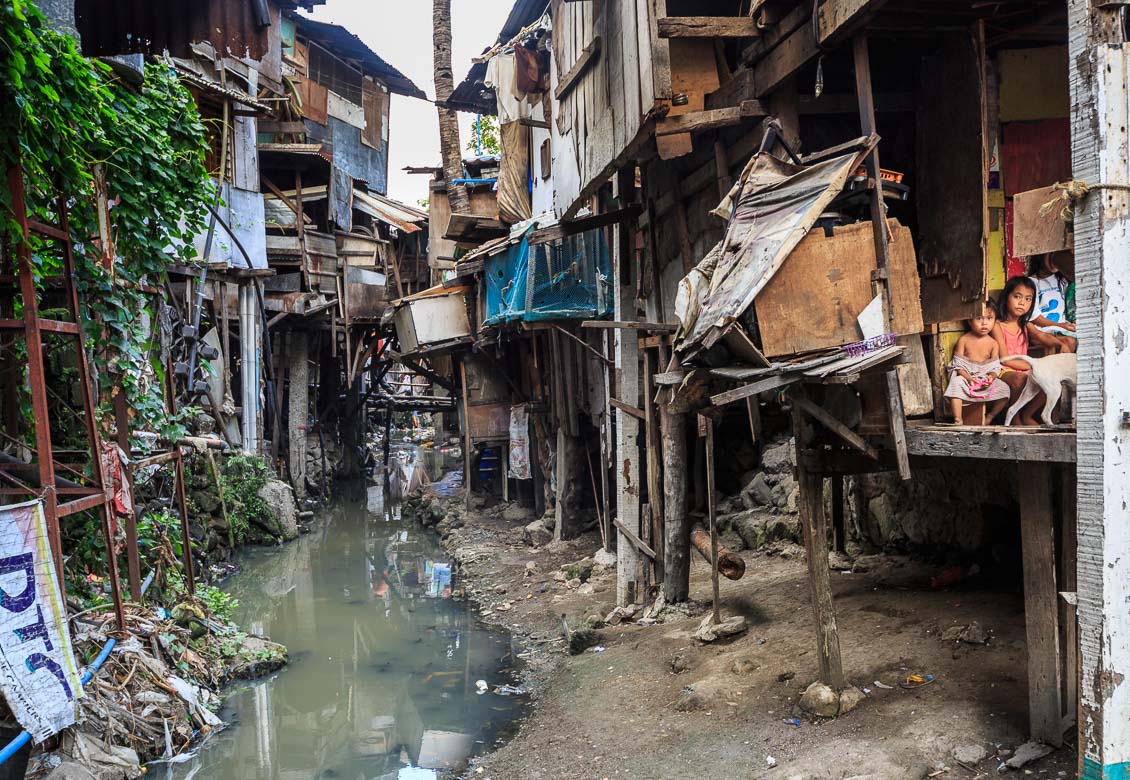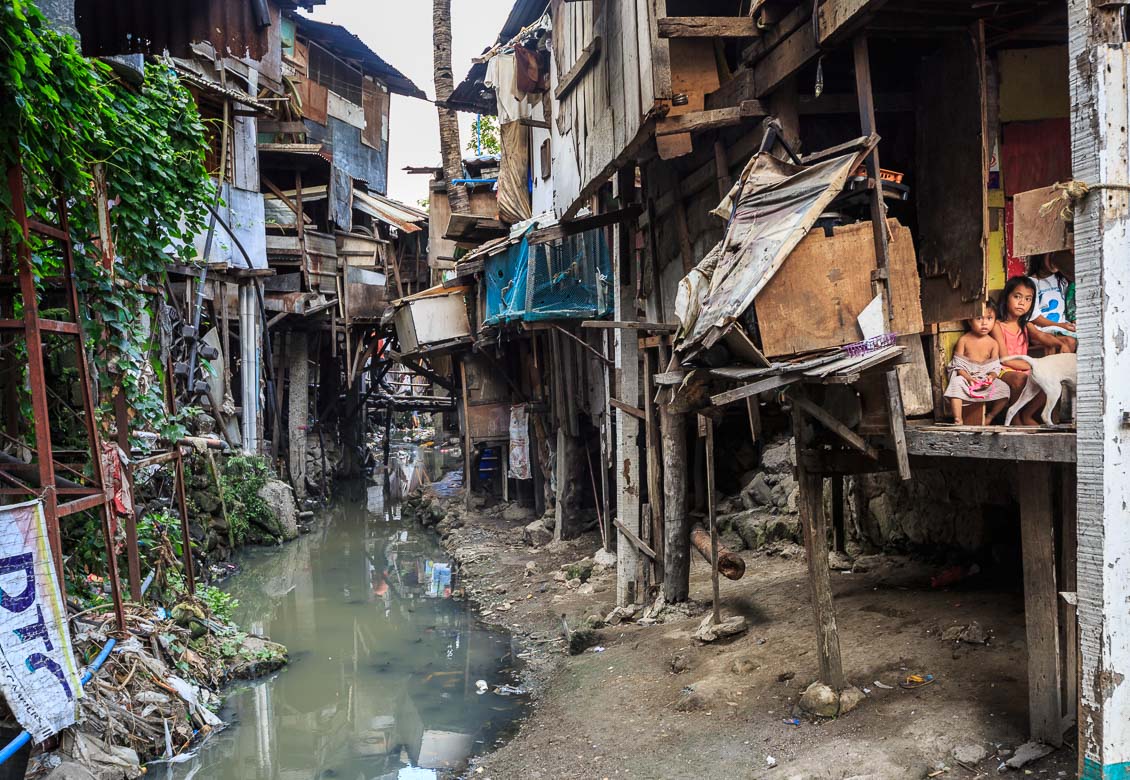 The Philippines is a country full of contrasts. Here the soft warm water will sweep across coral reefs in all the colours of the rainbow. But here are also powerful typhoons that will crash everything in its paths, destroying cities and sinking ships. Here are tall volcanic mountains erupting and immediately east of the Philippines the deepest oceans on earth.
Here thrives like in many developing countries spectacular wealth and tragic poverty side by side. Nowhere is it more clear than in the large cities. The ambitious move into the capital to search for new opportunities to take care of their families, but the reality is that it is easier to grow fruit and vegetables and find a few fish or chicken to add to the food in the countryside than it is to be poor in big cities.
The poor get together in "squatter areas", live in the most squalid conditions without even the most rudimentary sanitary conditions, have no access to health care and can only get occasional work. But still they don't give up. And an ambition common in all Asian cultures is to give their children a proper education. But the financial resources are lacking.
In such an area, called Paranaque in the outskirts of Manila the Rogationist Fathers are active. The Rogationists are a catholic group originally founded by Father Hannibal in 1897. John Paul II proclaimed him a saint in 2004. The spirit of their work is probably best proclaimed by the words of Jesus: "What you do for the least of your brothers, you do it for me."
Around 1990 I came for the first time and visited these squatter areas after having sailed to Manila. Father Nip guided me around and introduced me to the families, many of which we still regularly visit. Fr Nip is one of the Rogationist Fathers. We saw lots of suffering and poverty but were also met by smiles and laughter, hope and a willingness to improve their own situation
With a group of dedicated teachers and with the inspiration of Fr Nip and the mission of St. Hannibal we started a school in a building available in the local parish. We formed St. Hannibal Foundation in the Philippines, and have been supporting a primary school for 60 children and also about 10-15 high school and university scholars. Through the years we have got many alumni, whom we are still in contact with during our visits to the Philippines.
A few years after the start I was joined by Kerstin and Karl-Axel Granlund, who have been great supporters of the foundation since that time. And in the late 1990ies Father Eric joined as the administrator. All administration is handled by the Rogationist Fathers' Church and all money given by us or and other contributors goes directly to the scholars for their books, food, uniforms etc. and as salary for the teachers. All administrative costs and all time set off by Fr. Eric and by other brothers and fathers are funded by the Church.
We have around 60 students in the primary school (the first six years). They should really be between 6 and 12 years old, but because we aren't able to catch many of them until later, they may be both 14 and 15 when they finally leave our primary school. After the primary school they can, if they are ambitious and talented, continue to high school and college. The high school is paid by the government and we are only helping with food, books, school uniforms and similar things. University on the other hand is quite expensive and each student will cost around US$ 2,500 per year. We have around 10-15 students in high school and college/university that we are supporting.
If you want to achieve a charitable object in the Philippines it is necessary to work through institutions that command respect and that you as benefactor can trust. Corruption is rife and from a foreign country you cannot supervise the charitable activities in the same way as you can in your home country. Although neither Jennifer nor I are Catholics, it has been very pleasant and easy to work with the Rogationists and without the drive and rigorous management of Fr Eric and several other committed brothers and fathers, we would not have been able to achieve what we have done.
Jennifer and I go regularly to meet the students and the teachers and to meet Fr. Eric. Fr. Eric has been several times to Europe and visited us in England and Sweden. He took part in Adèle's Christening in 2005 and in the Christening of Eric (our son) in 2008 and Fr Eric has met Michael, the vicar of the Swedish Church, where I am active, and also our local clergy at Exeter Cathedral.
When we started this charitable program, the Rogationists in the Philippines were led by F. Bruno. Fr Bruno has now moved back to Rome and is the deputy head of all Rogationists. We are still in contact with him and met in the spring of 2015, when we participated in a mass conducted by the Pope during Easter. Fr. Bruno's personal interest is a further guarantee that the charity receives the attention that it deserves.
One of our special students was Onneth. She graduated as a medical doctor in 2003 after I had supported her during 8 years. She has no contact with her father and calls me her "souldad". She came over to Sweden during Jennifer's and my wedding and the Christening of Adèle and gave a speech for the 230 guests, which made everyone cry and I think everyone still remembers. But Onneth is just one example of the many success stories we have. The distance from the happy, well fed and successful children and young men and women you see in the photos, and the life in the squatter areas they come from couldn't be bigger. But still they never forget their background and their responsibility for their families.
Onneth is now a successful medical doctor based in Australia and since several years married to another Filipino doctor and her university sweetheart. They got married in Tagaytay, a beautiful part of the Philippines with several volcanic lakes and mountains. Onneth had asked me to give her away (which I was extremely honoured to do), and Jennifer was the bridesmaid and little Eric Gregory was the ringbearer. So all the family had a role except Mikee, who had to stay home in England, as she had just moved there and joined her English school.
We have now been active for 25 years supporting the elementary school which is situated next to the Rogationist Fathers' Church in Paranaque (just outside Manila) and also each year accepting a small number of new scholars at high school and university.
When you walk around the squatter areas and see the condition those children live under and then you come to the school and you are surrounded by well fed, happy, clean, smart kids, you realise how you can transform a life for a child, and what a blessing it is to be part of such a program.