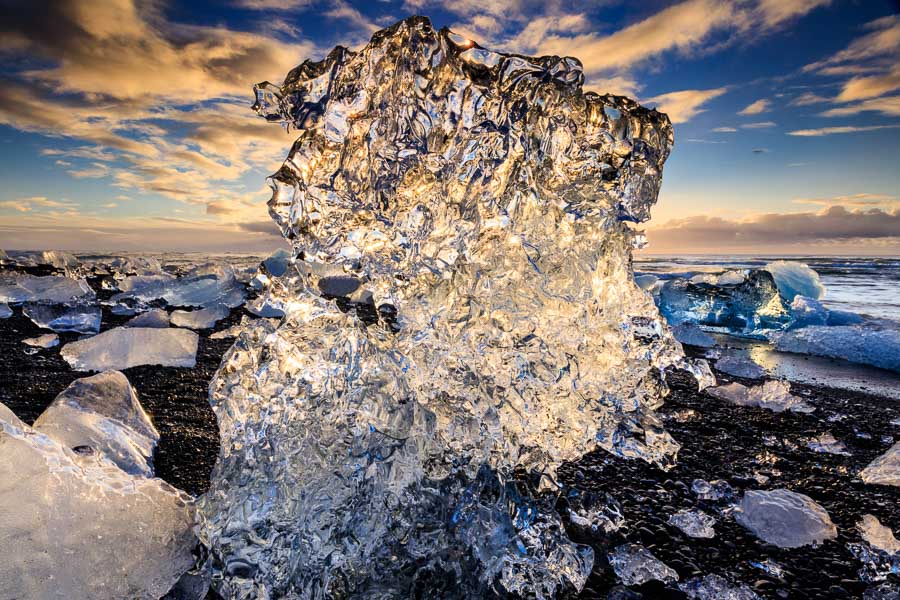 Iceland was created by fire. It is situated in the mid-Atlantic rift, where the Eurasian and the American tectonic plates slowly are moving apart with about 2.5 cm a year. And along this rift that goes straight across Iceland, from its southwestern part to its northeastern, magma  and lava is constantly welling up, as geysers are letting out their steam and volcanoes are erupting. So Iceland was formed, and so it is until this day constantly growing.
Iceland has the largest glacier in Europe, Vatnajökull, which covers an area roughly the size of Luxembourg and also several other smaller glaciers in total covering more than 10% of the total land mass of Iceland. Sometimes Ice and Fire meet. Several volcanoes are situated right underneath the glaciers and can cause enormous flooding as they melt parts of the glacier from the bottom, and when the water breaks out, it sweeps everything with it along its way to the sea. The latest eruption at Vatnajökull finished at the end of February this year after having lasted for half a year. And in 2011 an eruption blocked lots of air traffic all over Northern Europe due to all the smoke and debris that filled the atmosphere.
Jennifer and I went with a group of like minded photographers (to be honest their minds were probably more akin to mine than to Jennifer's!) to Iceland during the last 10 days of September. I had intended to write and publish a blog now and then during our trip, but I forgot the charger to my computer and couldn't start to get my images ready until now, when I am back in England again.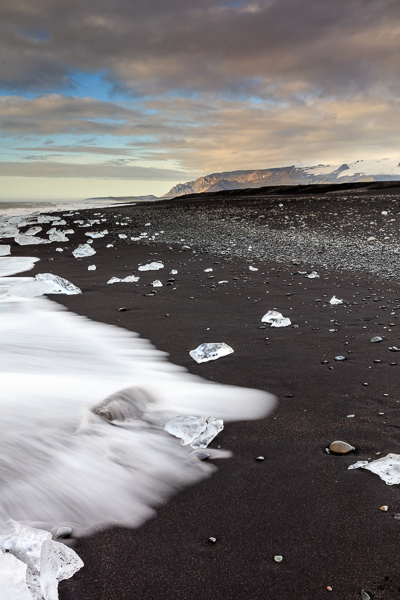 This isn't the first time I forget the laptop charger. Last time it happened was at an important business trip to Germany, and my trusted Lewis (who manages Knightstone for us) had to fly over to Germany to sort me out. Since then I have been relentlessly teased by my friends, and every time there is a problem, they say that the solution is to "call Lewis"!
But to ask Lewis to fly to Iceland was too much (although I am sure that Lewis wouldn't have minded), so you will have to wait while the pictures trickle down through my blog. When I am ready with the photos I will publish a series of them as a portfolio gallery on my website.
In this blog I start very appropriately with a photo of an ice block that has broken off from the Vatnajökull glacier and floated down into the sea at Jökulssarlon to be washed up on the beach. It has melted down until it is nearly translucent and rests on a bed of black volcanic pebbles that have been created in a distant volcanic eruption and since then rounded by thousands of years of waves and ice polishing them smooth. As the first morning sun rise over the horizon, the sunrays shine through the ice block giving it its golden hue.
And next to this text is a photo of another part of the same beach with small growlers washed up as another wave just is hammering the black sand. In the background to the right you can see the sunrays hitting a small part of the Vatnajökull glacier.
Finally I am giving you a more idyllic picture of a tiny hamlet/village with its church at the foot of the mountains. Both the landscape and the remote location of the tiny hamlet is very representative of how the Icelandic people live, if they aren't based in Reykavik, the capital. And I finish with an image from another glacier lake, Fjällsarlon. The glaciers have retreated substantially during the last decades but the largest glacier is still around 1,100 metres thick in the middle of the glacier.
As I continue to develop my photos in the coming weeks I will try to entertain you with a couple more stories and images from Iceland. It is a stunningly beautiful country with a very changeable weather. I loved the opportunities to catch images with dramatic skies, but I think sometimes Jennifer wondered what she was doing in this old Viking country. In a couple of weeks' time I will publish a portfolio gallery with the pictures from Iceland.