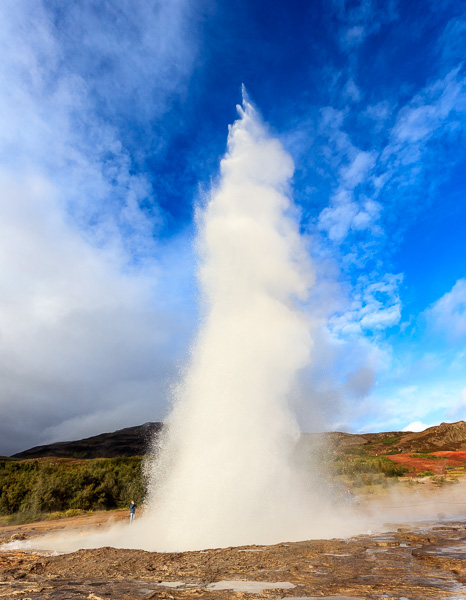 Geysers are fountains of hot water coming out of holes in the earth. The heating comes from hot magma from underneath the earth that at certain places can reach close to the surface. The water must travel in fissures in the crust of the earth. The water gets heated by the magma but cooler water above functions like a plug allowing the water to superheat (becoming hotter than the boiling temperature of 100°C) before the pressure causes the geyser to explode in a plume of hot water.
Most geysers around the world appear where there are volcanic activity and fractures in the crust. Iceland, situated between the Eurasian and American plates has lots of cracks, lots of water and hot magma coming close to the surface at several places. The mother of all geysers, the Great Geysir, was first observed active in the 14th century. It is situated exactly where the two plates move apart and lots of volcanic activity and big fissures are present. Geysir was active until a hundred years ago but is now dormant. Strokkur, situated just 100 metres or so away from Geysir, is still active, erupting around every five minutes to a height of around 30 metres.
Strokkur Eruption I
The whole field is still called Geysir, but it is actually Strokkur that I have photographed here. Geysir and Strokkur is situated close to Tingvellir, where the first Allting (parliament) was held more than 1,000 years ago (not only rape and pillaging but also democratic institutions flourished in Viking times!) and close to Gullfoss, the famous and very beautiful waterfall.
The first image (at the top of the blog) shows a mid-morning eruption, but the two galleries (one above and one underneath here called Eruption I and II) show two different eruptions. Each eruption lasted for around 3 seconds and I have taken 18 and 14 pictures respectively. They are captured into the sun, so the sun is behind the plume of water, when Strokkur starts to erupt. As the eruption reaches its maximum height (around 30 metres) the wind blows the plume of water to the left in the picture and the sun appears again.
I have set the two slide shows to change images automatically, so that you can get a feeling for how the eruption developed. But if you click in any of the shows, you stop the automatic process and can proceed in your own pace, slide by slide.
I have now soon finished the work on my images from our Icelandic journey, and the next thing I publish will be a portfolio gallery from the whole trip that will be ready in a week's time or so.
Strokkir Eruption II