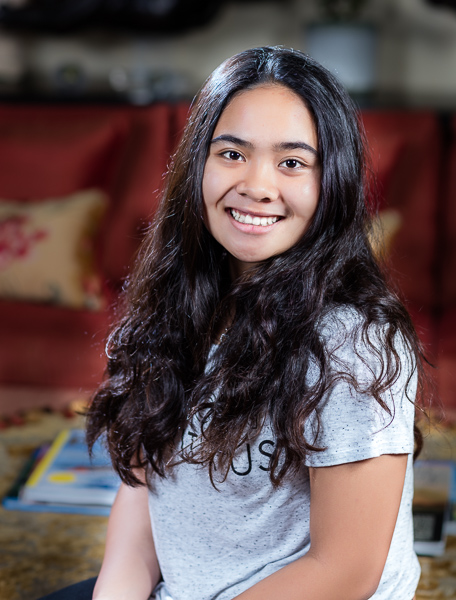 It was in the spring of 2015 that I was driving Mikee to school and she suddenly asked me: "Tito (uncle), would Tita (aunt) and you like to adopt me?" I was nearly driving into the hedge at the side of the road. Now it has happened (the adoption – not driving into the hedge)!
Jennifer and I first met Mikee in Manila, when she was two years old.  She is the daughter of Jennifer's brother Michael and his wife Zamora. And she first came to England to visit us in 2007, when she was four years old.
She came back a year later with her grandmother, Jennifer's mother Luz, when Eric was born in 2008. Then she stayed with us for six months and went to St John's school and got lots of new friends. She loved the school and her life in England. She spent her birthday and Christmas at Knightstone. She went back to the Philippines determined that she should go to school in England. She talked to her parents and to us, and we jointly decided to try it. She is a very convincing young lady, and already in 2009 and 2010 at the age of 7 she was fully determined to study in England and live with us, and she persuaded both her parents and us to let that happen.
After lots of form filling and other bureaucracy she finally came to study in England and live at Knightstone in May 2010. She has gone back to the Philippines around once every year, but otherwise been living with us and in all respects except formally been like our daughter. She studied first at St John's and then came to Maynard School in Exeter in 2014. She is now at her third year at Maynard.
Mikee integrated well into the small community of Ottery St Mary and with our friends as well as her classmates and other friends both at St. John's and Maynard's. She joined the choir at our local church at Ottery St Mary until the burden of the school work at Maynard's became too much, and she had to leave the choir.
Unfortunately, her parents separated and her mother, Zamora, went to work in Abu Dhabi and Mikee lost some of her contact with her mum. A year and a half ago Mikee again took the initiative, this time to be adopted. We had a long process, mainly because of the discussions with her father in the Philippines and her mother in Abu Dhabi. It must have been a very stressful period for Mikee. Neither was it easy for her birth parents or for Jennifer and me, but finally all of us agreed that it made sense to formally establish what in reality already had taken place.
The English Courts have now made their decision, and Mikee was formally adopted on Thursday October 27 at a Celebration Hearing in London. At that time, she also took on the name Mikee Angel Osterlund and she became a British citizen. Mikee and we will continue to be in close contact with her birth parents, Zamora and Michael. They will always be part of our family as well and we love them dearly.
We have got an enormous support from many of you, who in different ways have helped us in the adoption process. Most importantly, you have been there for us and all the time treated Mikee as the daughter she now formally becomes. And we must say that the formal process with social workers and guardian and other institutions couldn't have gone smoother or been handled with more tact and friendliness.
Eric is thrilled. He has all his life had Mikee living with him as a sister. And so are my older children, who now get another sibling. And Jennifer and I are so happy.
On the surface, nothing much will change. But an adoption is like a wedding. It formalises a relationship and confirms our responsibilities to one another. And Jennifer and I have confirm, in front of God, the English Courts and all our friends and relatives our responsibility towards Mikee as our daughter. And with the support from you, our friends, we, Mikee, Eric, Jennifer and I, hope we will be able to continue to be a loving, caring and closely knit family.
The Adoption Days
On the day of the adoption (Thursday 27 October) we went to a Celebration Hearing in London, where Mikee and we were greeted by the judge, who handled our case, District Judge Robinson. It was a very warm and relaxed event and afterwards we (the family and Lars & Birgitta Lind and Riza Gabarda) went to the Wallace Collection for a little bit of culture and afternoon tea. And then we went to the Swedish Church were we were joined by Michael and Camilla and their son Caspar and Michael said a blessing for Mikee, while we all stood in a half circle around Mikee and prayed for her and her new family.
In the evening we went to Mosimann's for dinner. We celebrated Eric's Christening at Mosimann's too and several other important family events. The next day we went to Greenfields to meet Susanne (my daughter) and Dave (her husband) who had just come back from Australia with Emily, my first granddaughter.
And back in Devon we had a party celebrating Mikee on Saturday and two weeks later we had a blessing at the local church in Ottery St Mary with a few friends followed by a champagne brunch at The Rusty Pig, a very rustic place with lots of charm. Robin, who owns the Rusty Pig has with great success been doing lots of events for us.
We have a slide show showing the events of the days around the adoption.
The Collage
But an adoption isn't just about the days, when we celebrate. It has for Mikee and for us been a long journey and in the slide show below, we show a collage of pictures of Mikee with us since she was a girl of two until today.