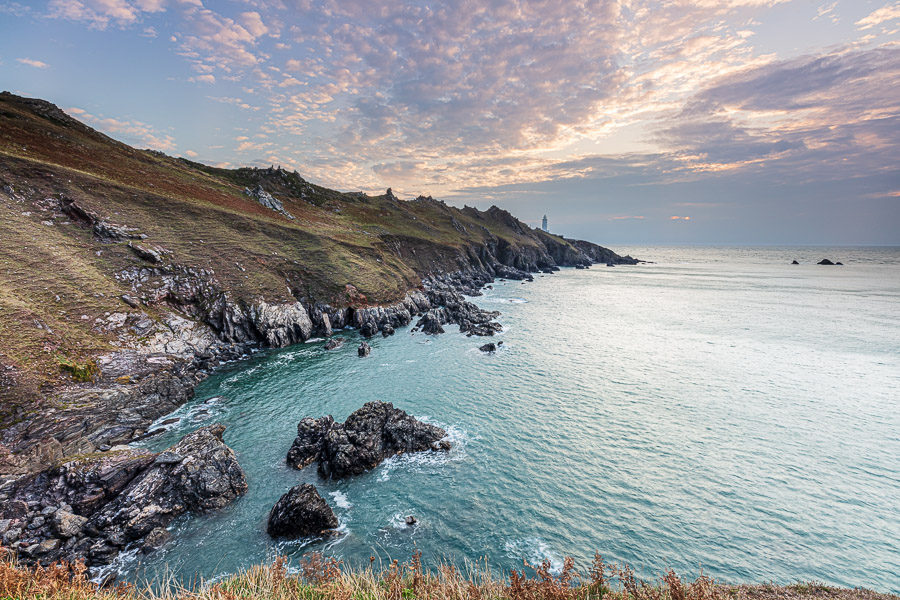 Some days you feel you have really achieved what you wanted to do and you feel great. Others you haven't done so well and you are maybe a little bit miserable. But yesterday I failed to achieve the photos I wanted to have and I felt great!
I went to Start Point which is a promontory at the South Devon coast between Dartmouth and Salcombe with beautiful rock formations and at the very end is a lighthouse. I left two hours before sunrise to be there for the spectacular event as it always is, when you see the sun rise – in this case from the sea. And driving from Knightstone to Start Point – a lot of which is on small roads where you cannot meat any car – I could imagine that the clouds would be spectacular.
But I arrived and set up my camera, and at sunrise the horizon was covered with a thick layer of clouds, so no sun appeared. A big disappointment! Further up on the firmament the sky opened up so the sky turned out as attractive as I had hoped for, but I needed the sun rays to backlight the promontory and its rocks to get the image I wanted to catch.
All the same, Start Point is a wonderful place to be, the morning was beautiful, the wind was fresh, the walk along the Coastal Path to Great Mattiscombe Sand was exciting and I could sit down beside a cove and watch not less than three seals playing. But again no photo opportunity for me– when I crawled closer with my camera the seals dived down and disappeared. And just after the seals a group of friendly sheep decided the they didn't mind my photographic pursuits.
So I had a couple of fabulous morning hours at Start Point but didn't get any of the photos I was expecting. But I decided to illustrate my blog with two of the photos anyway.