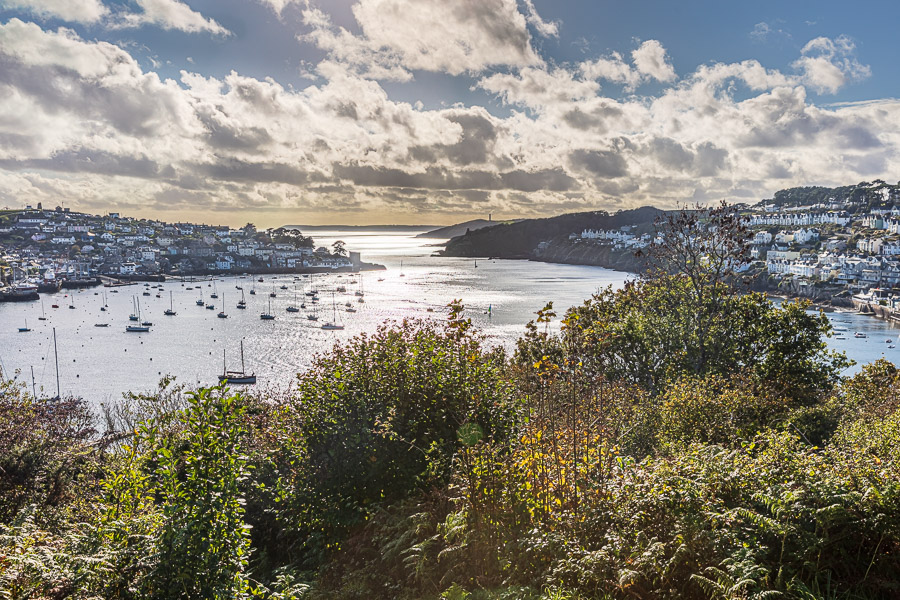 With such strange names as Fowey and Polruan we must be in Cornwall! I went to Cornwall last week to look at two yachts, a newly built sailing yacht and a rebuilt motor yacht, both by Pendennis Shipyard in Falmouth. On my return after a few lovely hours onboard the yachts and a meal that would make a Michelin starred restaurant proud, I used the opportunity to visit a couple of small harbours along the Cornish south coast.
The first was the mouth of river Fowey that before its exit (see image above) widens into a natural bay, where yachts (and larger ships) can find a protected anchorage or have a permanent mooring. The image above is taken towards the mouth of the river in the southwest direction, straight into the afternoon sun.
To the right (the western side) is the old town of Fowey that in medieval times (and much later, too) harboured merchants in the houses along the waterfront. And a group of privateers – the Fowey Gallants – were given license to seize enemy vessels during the Hundred Years' War (1337 – 1453). Nowadays Fowey with its picturesque lanes and alleyways makes a lot of money from the tourists that descend on the town (at least during non-pandemic times). And there are still a few trawlers that mingle with the yachts and fishing contributes to the income of the town – and maybe even more so, when Brexit becomes a reality next year!
On the other side of the river is the ancient fishing village of Polruan, surrounded on three sides by water and lying on a steep hill. Like Fowey it has a maze of narrow streets and lanes and is very charming to visit. In former times the harbour was guarded by a chain that runs between Polruan and St Catherine's Point south of Fowey. In times of war the chain could be raised and block the entrance to the harbour.
My second image shows a detail of Fowey with the town quay in the centre. Behind it and a little to the right is the parish church of St Finnbar, built in the early 14th century and replacing a much older Norman church. But the tower was erected later and is 16th century. What looks nearly like a castle to the right of it is Place House, which was important for the defence, when the French attacked during the Hundred Years War.