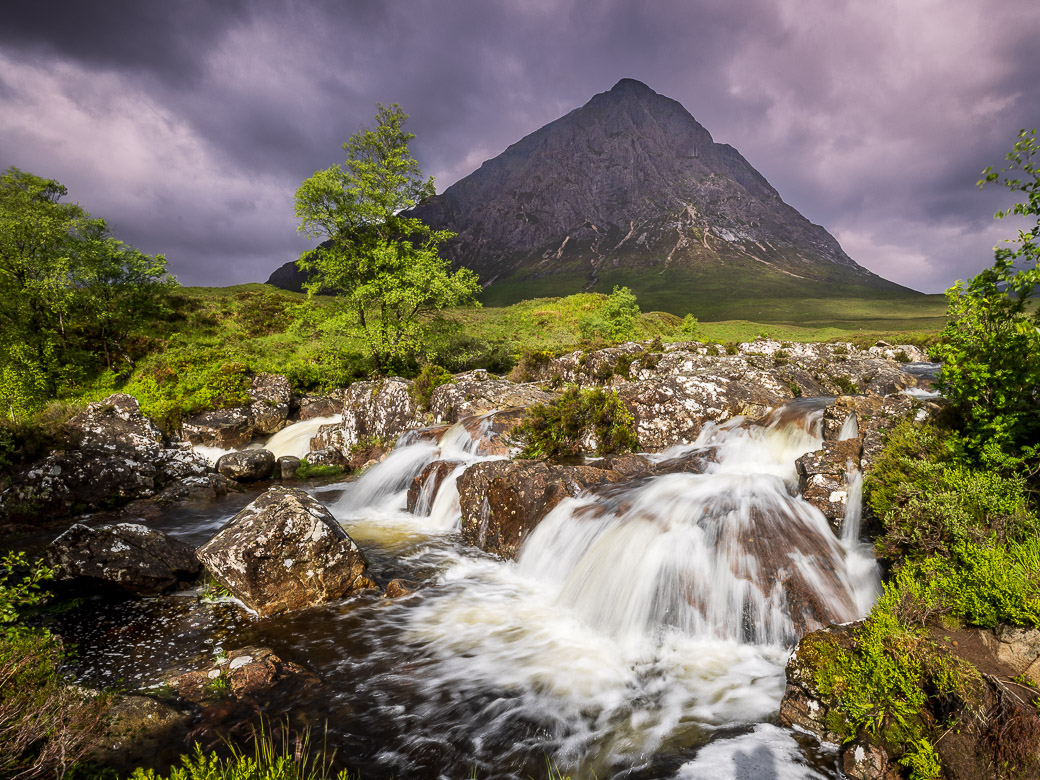 Glen Coe is probably the most famous part of the Scottish Highlands. The landscape is volcanic in origin, but the glen is much more recent formed by a glacier in the last ice age (around 10,000 years ago). The glen is historically famous due to the Massacre of Glencoe in 1692. Around 120 soldiers and officers from the English (William & Mary) arrived in Glencoe and were billeted with the McDonald clan. During the night or early morning they slaughtered their hosts and killed around 30 of McDonald's men and families.
But now the glen is most famous for its natural beauty. The eastern part, where Glen Etive meats Glen Coe has a most eye-catching mountain, the Buachaille Etive Mor, or just the Buachaille. From the east it has a pyramidal form and I tried to photograph it with one of the many waterfalls and rapids in the foreground. During my first day there it rained all day, and the stream became a torrent of water (see image below to the left). The second day I ventured down into Glen Etive and succeeded in catching the Buachaille with some sun on the foreground (see image above), but the mountain itself was still as dark and brooding as the day before.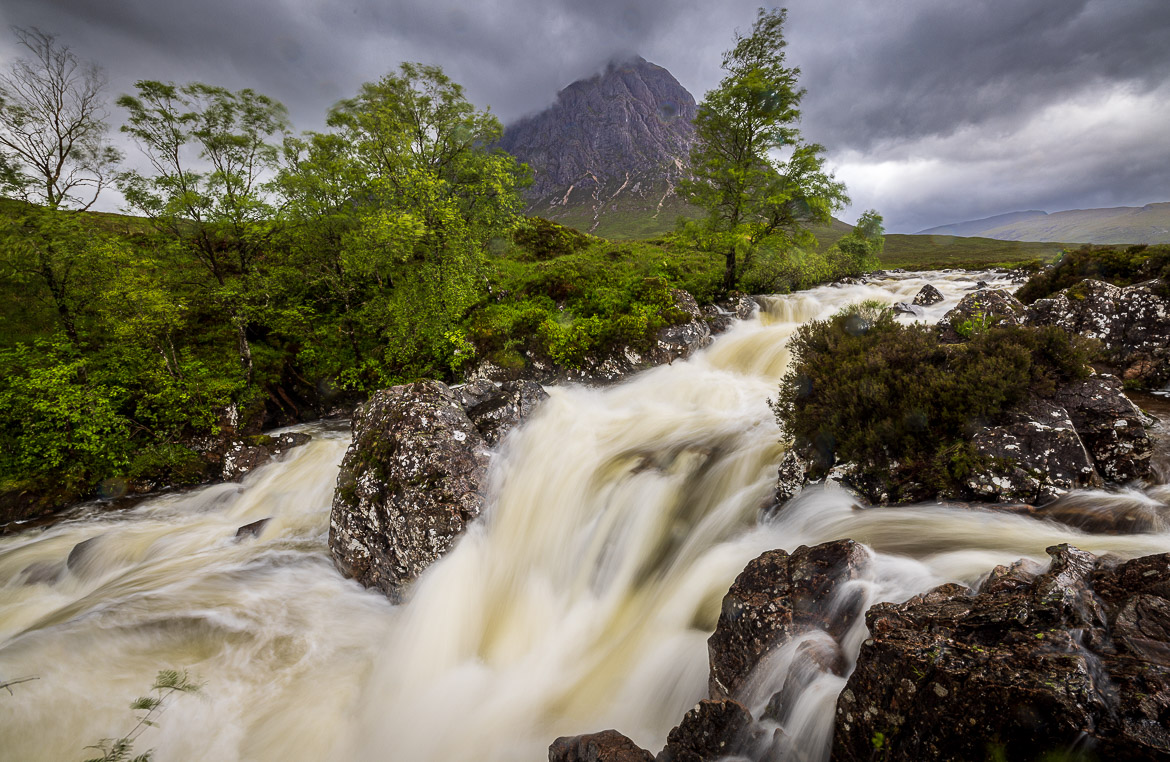 A little bit further west the view of the Buachaille was entirely different. A lonely white cottage at the base of the massive mountain formed a most attractive composition and sent a message of solitude among the mountains (see image above to the right). I walked down to the river Coupall (the same river that formed the foreground in my first images above here) and captured the image looking west along the river and up towards the pass at Glen Coe with Lagangarbh Cottage leading the eye towards the mountain and the pass.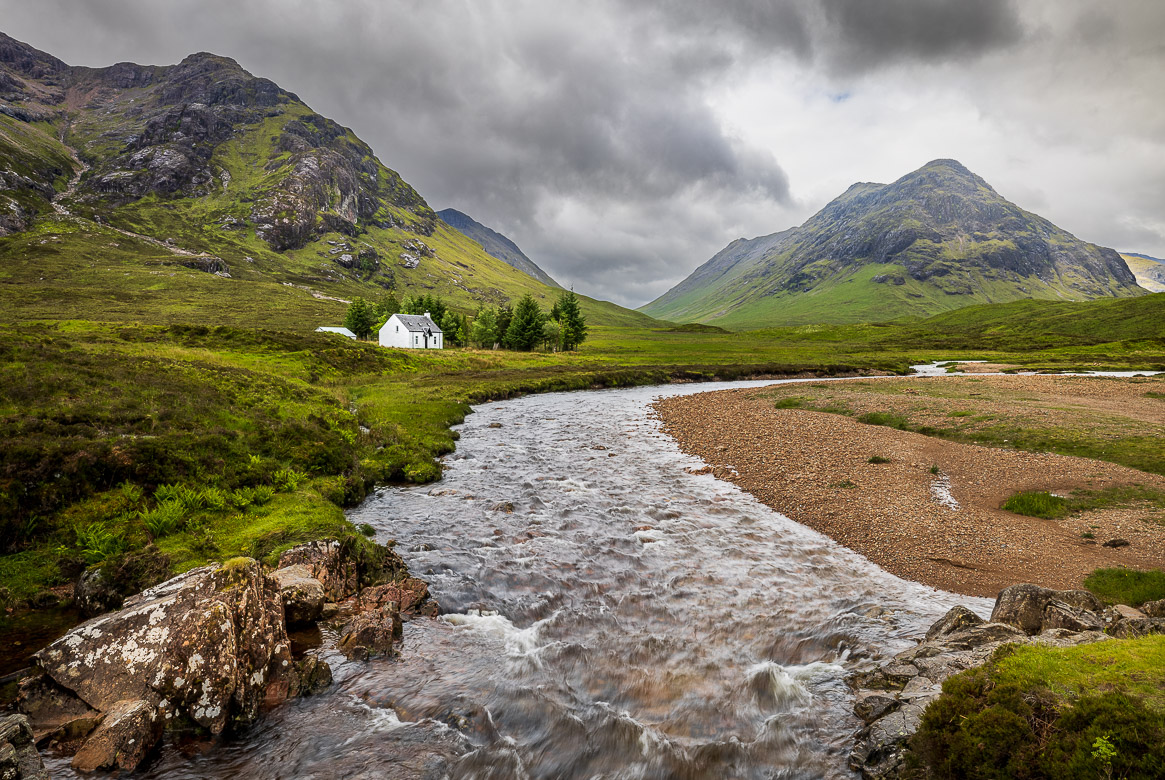 After the pass the road instead followed the River Coe flowing west into the lochs on the west coast. After all the rain we have had the Glencoe Waterfall was full of water and I stopped to catch yet another image of waterfalls.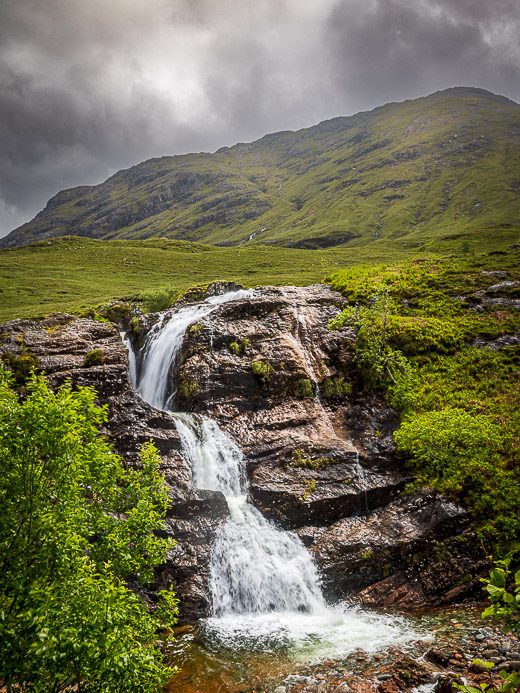 East of this glen are a couple of beautiful lakes, Lochan na h'Achlaise being one of them. I stopped for a walk noticing snow on the mountains in the background for the first and last time on this trip in June.