Canova – Technology meets Beauty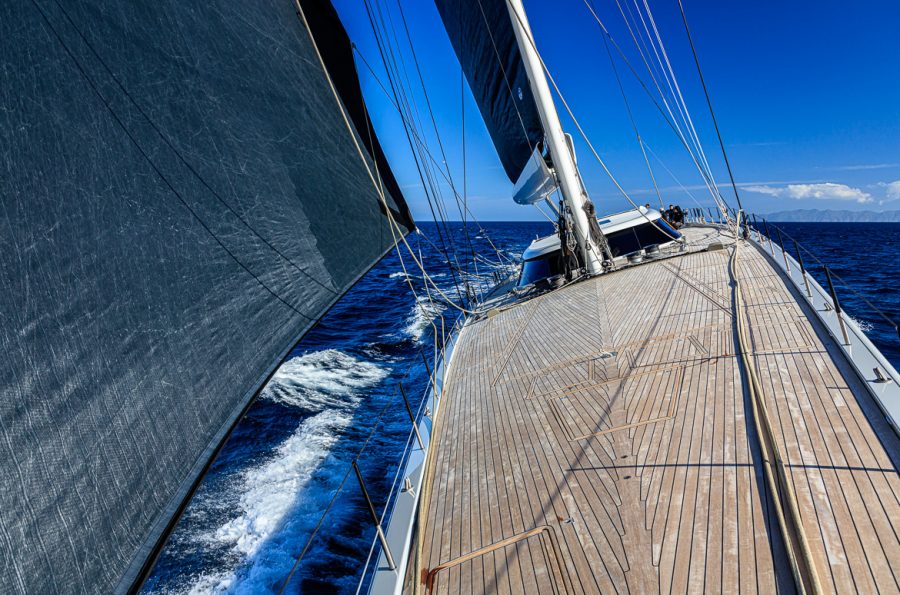 In the middle of February, just before any of us had realised how serious the Corona virus outbreak was becoming, Roger and I were invited to sail aboard Canova by its owner, Dario Segre. Canova is a 43 metre very modern and very fast sailing yacht built by Baltic Yachts and delivered at the end of 2019. It competed in the 2020 World Superyacht Awards and Roger and I were invited onboard to judge her, and Roger wanted to write an article for Boat International about her.
Canova had several quite unique features. Both the hull and superstructure are carbon composite. Her length overall is 12 metres shorter than Adèle, but her waterline length is actually longer than Adèle's, her width is nearly the same as Adèle's, but her displacement is only half of Adèle's. I am, as most of you know, an admirer of classic yachts, but Canova blew me away! She is very fast, very beautiful in a modern way and very comfortable.
Everything is carbon, hull, superstructure, mast and boom, rig and sails. For a lover of classic yachts, black sails take some time to get used to, but they have now existed for so many years that I have got used to it. You can see my pictures and judge for yourself. I find her very attractive.
She has a lifting keel with a draft of 3.8 metres with the keel up and 6.5 metres when it is down. She has pioneered the DSS (Dynamic Stability System) on a Superyacht. This is a stabiliser fin that can extend 9 metres out on the leeward side of the yacht and increase her righting moment, thereby either making it possible to carry more sail or raising her up in a more horizontal position. Dario explained that he designed it to help his wife, Chiara, feel comfortable, when they are sailing together. Roger and I, as seasoned sailors, smiled at that explanation. We stopped smiling, when we were having a lunch while sailing from Corsica to Italy and struggled with holding our plates, and when the captain deployed the DSS fin, Canova suddenly raised up and we could move around the deck as if it was a dance floor, and the lunch became a real pleasure instead of a struggle. The righting moment is impressive. It reduces pitch as well.
She has two tenders of which the largest is 7 metres long. The tenders are totally hidden underneath the deck, one forward of the mast, the other aft. See my pictures. As a comparison the largest tender on Adèle is only 6m long.
Canova has diesel electric propulsion. Two large generators of 225 kW each and a smaller one for back-up and to use at anchor if needed. The generators charge an enormous lithium-ion battery bank, which in turn drive everything aboard including the electric engine that can turn nearly 360 degrees. That in combination with two rudders give her exceptional manoeuvrability at docking or anchoring. During sailing the electric engine can be turned into a generator charging the battery bank, which means that she can run for days without any generator at all going. When that generator is deployed, she loses about half a knot of speed, but you get a very silent and very environmentally friendly yacht.
She has a superstructure that not only covers the saloon but continues aft to cover the cockpit, all at the same level. Two large doors connect the cockpit to the saloon, and when they are open you have a vast indoor-outdoor entertainment area. Due to the high freeboards (compared to a classic yacht), the Master cabin is situated midships underneath the saloon. Forward of the saloon and the Master cabin, the guest cabins are at the same level as the Master cabin and above the guest cabins are the storage of the large tender entirely concealed underneath the deck, which is flush.
She carries 1,350 m2 of sail area (Adèle about 1,500 m2) but on one mast and with half the displacement of Adèle, and she is so well balanced that it was a real pleasure to get the privilege of sailing her. Dario and Mattia Belleri, the Captain, were very happy to give both Roger and me the wheel as often as we wanted during our days of sailing.
At 8 knots of wind we were doing 12 knots upwind. At those light winds many sailing yachts would struggle to make way, whereas we were running like an Arabian racehorse without the uncomfortable jumping up and down that horse riding in Devon feels like to me.
Slide show Canova and her Tender
Canova – The Voyage
Roger and I met Canova at Portovenere, just south of La Spezia, which is a large naval harbour in northern Italy. I had never been to Portovenere before and Dario and Chiara took us the first evening to a local restaurant with some of their friends to enjoy the Italian cuisine. Portovenere was such an attractive little port, probably like Portofino was before it was discovered by the tourists (yes, it was in the middle of February and not the height of the tourist season!).
I decided immediately that before taking off the next morning I must go ashore and take a few pictures. Dario gave me an hour before we should take off, so I rushed around and tried as best as you can to capture the beauty of this port without time to set up a tripod or wait for the best angle of the sun. But I still hope that my pictures can show some of the attractiveness of this little town.
We had glorious sunshine all the days on board. According to Dario, it is always sunshine on-board Canova! We also had good wind all days except the first day. So were motoring south. We had planned to go to Elba but cut it slightly short and aimed for Isola Capraia (the Goat Island) between Elba and Corsica. On the way we passed Carrara, where the famous Carrara marble is found. Far away from the sea, the marble could be seen inland shining white along the mountains.
Capraia has been a prison island until recently, and therefore hasn't been accessible for normal visitors. But now the prison has closed, and we could visit this beautiful island for a walk in the morning. Roger, Dario and I had a pleasant walk in the morning around parts of the island before setting sail to Corsica.
We rounded the northern tip of Corsica in light winds and dropped anchor in Saint-Florent. We had another walk around Saint-Florent but couldn't find a single restaurant that in the middle of February could serve us a dinner. Which probably was as well, as it would have been difficult to beat our chef on board anyway!
The next morning, we sailed back north from Corsica to Italy and the harbour of Loano, south west of Genoa, where we during the evening hours met a few rain drops. However, they didn't stop us from venturing out into the town. Roger and I had found a delightful restaurant and were very proud that we as foreigners could invite Dario and Mattia to another delightful Italian dinner. But I left the camera behind, so I have no images from this little delightful port to show you.
And from Loano we sailed close-hauled east and northeast back to Genoa the next day. Roger, who knows Genoa well, guided me around the centre in the evening before we, following Mattia's advice, ventured for our last Italian meal during our voyage with Sergio.
After breakfast we took off. Roger was driving his car back to England but dropped me off at the airport first for my journey back home to Devon.
A very pleasant experience, full of beautiful towns and gorgeous Italian food, but above all what lingers in our minds are the sailing experience on board this unique and very fast sailing yacht and the hospitality and charm of its owners, captain and crew.
Slide show: The Voyage