Sheepstor Village and Church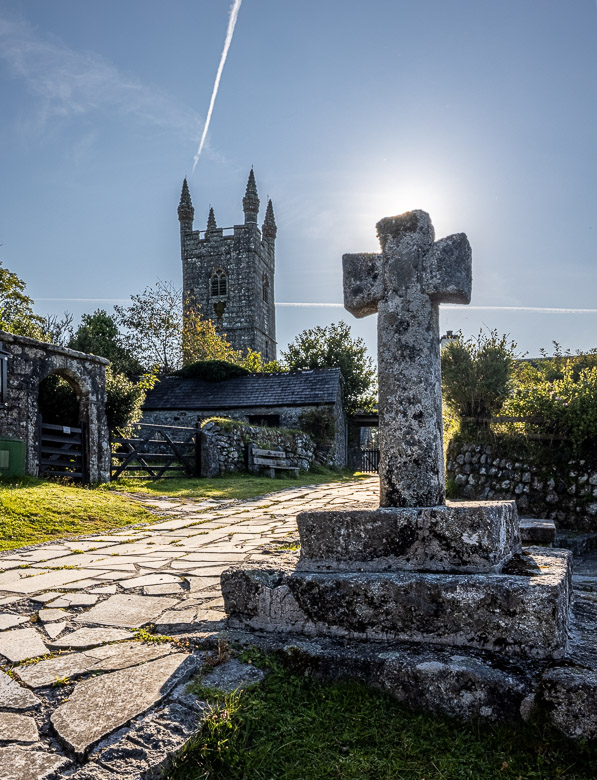 Sheepstor is a small village or hamlet on the southwestern side of Dartmoor. The nearest large city is Plymouth. It has around 50 inhabitants, down from around 100 in the beginning of the 20th century. The village church is built of granite and dates from the 15th century, but a chapel was first documented here in 1240.
Nearby is Sheeps Tor from which the village is named. Sheeps Tor is a prominent granite outcrop about half a mile to the northeast of the village. It rises to 370 metres above sea level. The name probably derives from the Old English word scyttel, meaning a bar or bolt, which reflects the shape of Sheeps Tor. The name has then become modified many times during the centuries until in more recent times it became Sheepstor.
The image to the left shows the village church, dedicated to St Leonard, and the village cross in the foreground.
The images below show the church, with its prominent church tower, from different angles on a beautiful late summer's day.
Yellowmead Stone Circle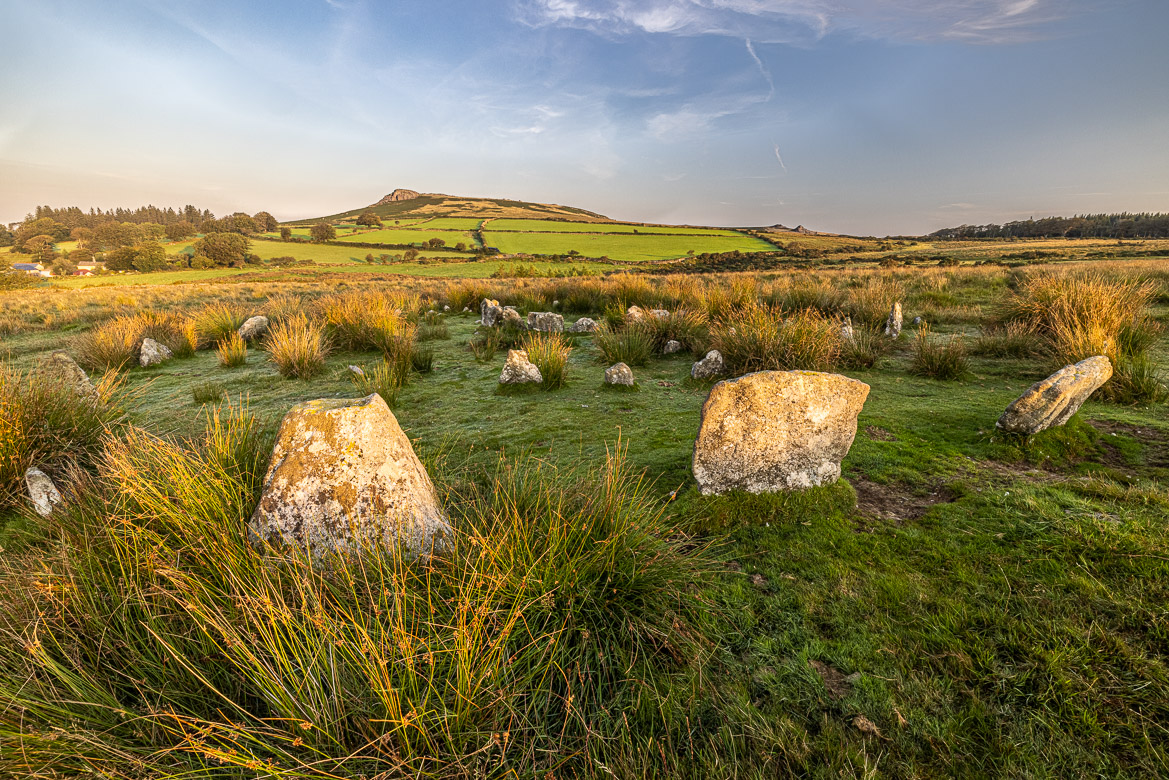 In the shadow of Sheepstor is a prehistoric stone circle, rediscovered as recently as in 1921, but dating from Bronze Age times. It consists of four concentric stone circles, the largest around 20 metres in diameter and the smallest is 6 metres wide. Inside the inner circle was a burial cairn, although now it is hardly visible.
The image above shows the concentric stone circles and three of them are clearly visible. In the background Sheeptor is visible.
The image to the left shows two of the circles with Gutter Tor visible in the background.
And finally, the image below shows the innermost stone circle. With a little bit of imagination (or maybe quite a large portion of imagination) you can discern the burial cairn inside the circle! And in the background, Sheepstor is again prominent.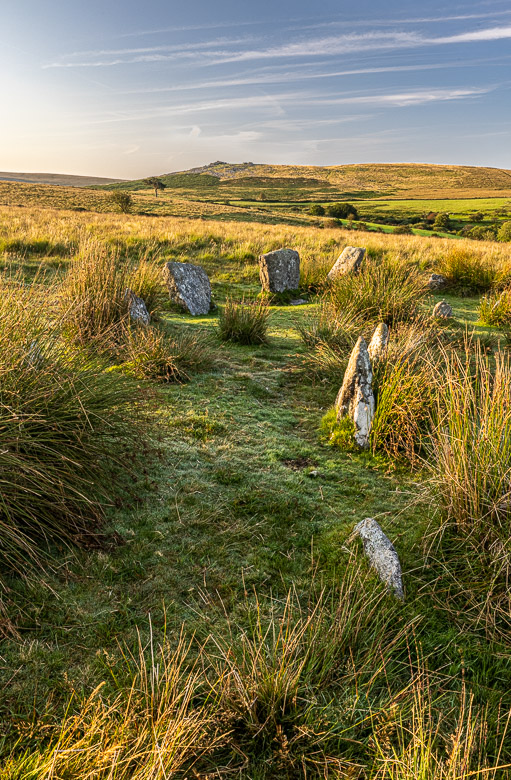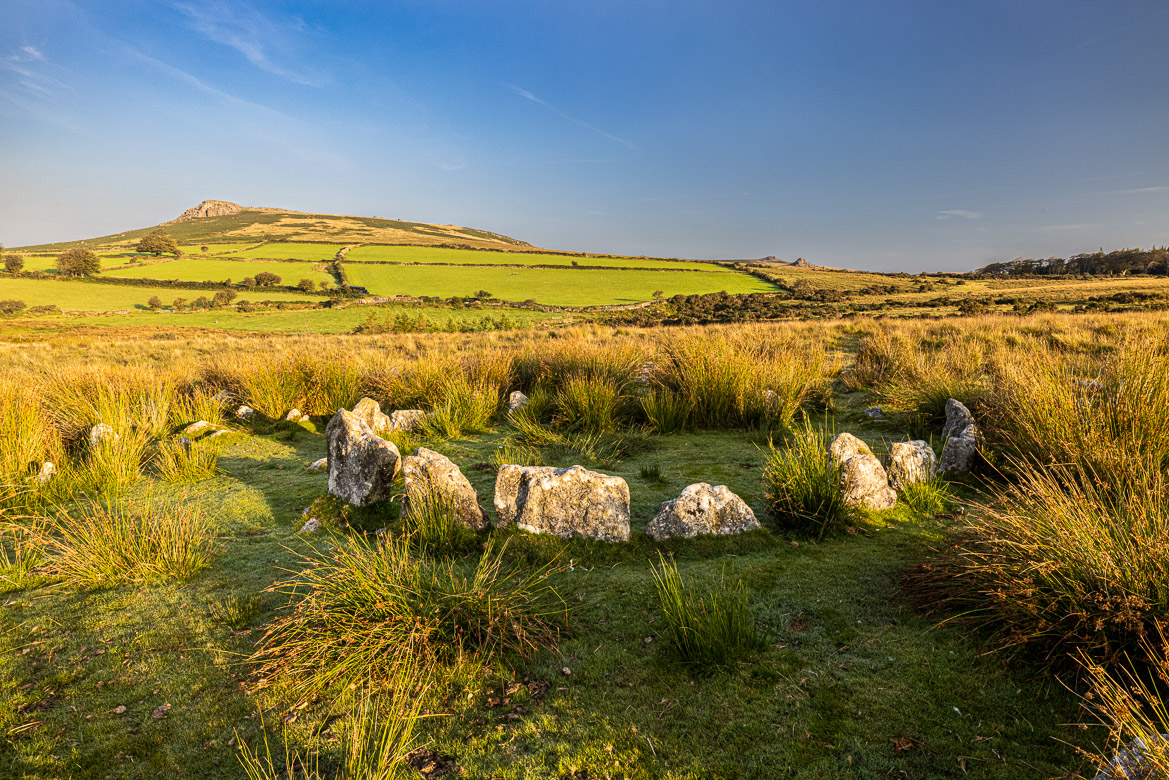 The War Horse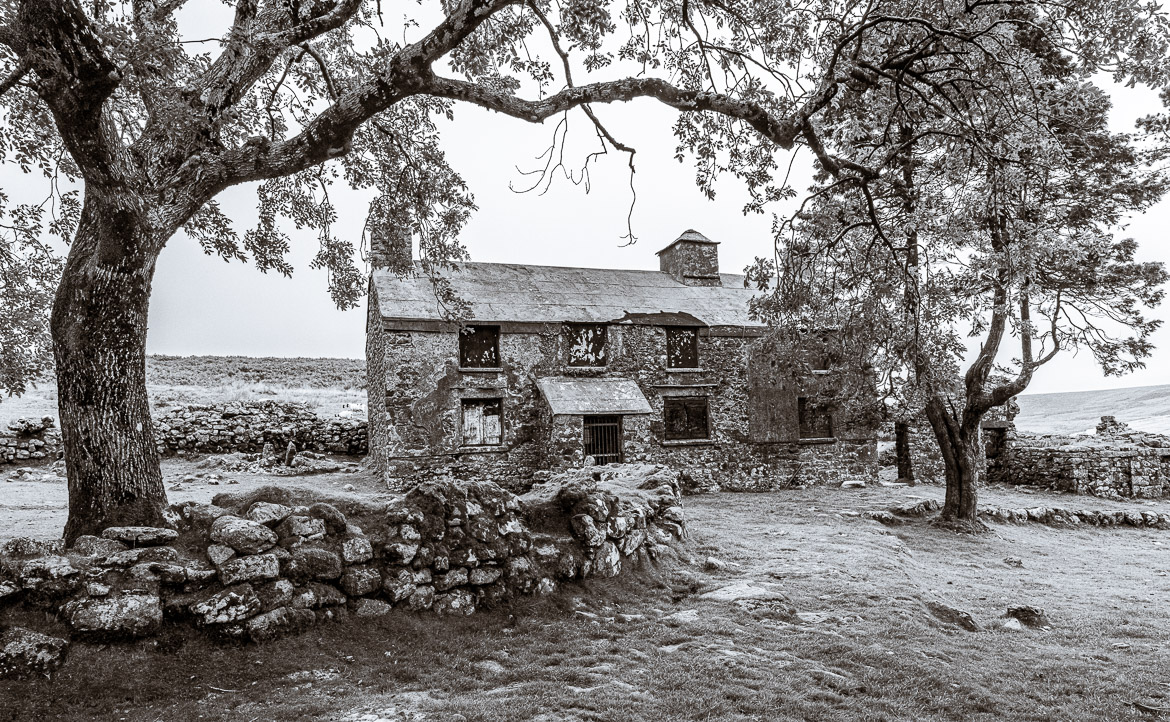 One and a half mile southeast of Sheepstor is an abandoned farmstead, Ditsworthy Warren House. It was built for the keeper of the rabbit warren near the house. Rabbit warrens were artificially built to raise rabbits for meat and fur. The greatest density of warrens were to be found on Dartmoor,and Ditsworthy Warren was the largest rabbit warren in England. 
As it stands the house is probably of late 16th or early 17th century construction on earlier foundations,. It is first mentioned in 1474 and was abandoned in 1947.
It was used for the filming of War Horse, an American film directed by Steven Spielberg and set before and during World War I. It tells the story of Joey, an Irish Hunter horse raised by British teenager Albert on Dartmoor and Ditsworthy Warren House became in the movie his family home. It is very desolate and Spielberg became bewitched by the beautiful landscape and the setting of the house. The movie also included scenes from Sheepstor and all over Dartmoor like the village of Meavy, areas near Widecombe-in-the-Moor, Combestone Tor and Haytor. Spielberg said about the Dartmoor landscape: "I have never before, in my long and eclectic career, been gifted with such an abundance of natural beauty as I experienced filming War Horse on Dartmoor."