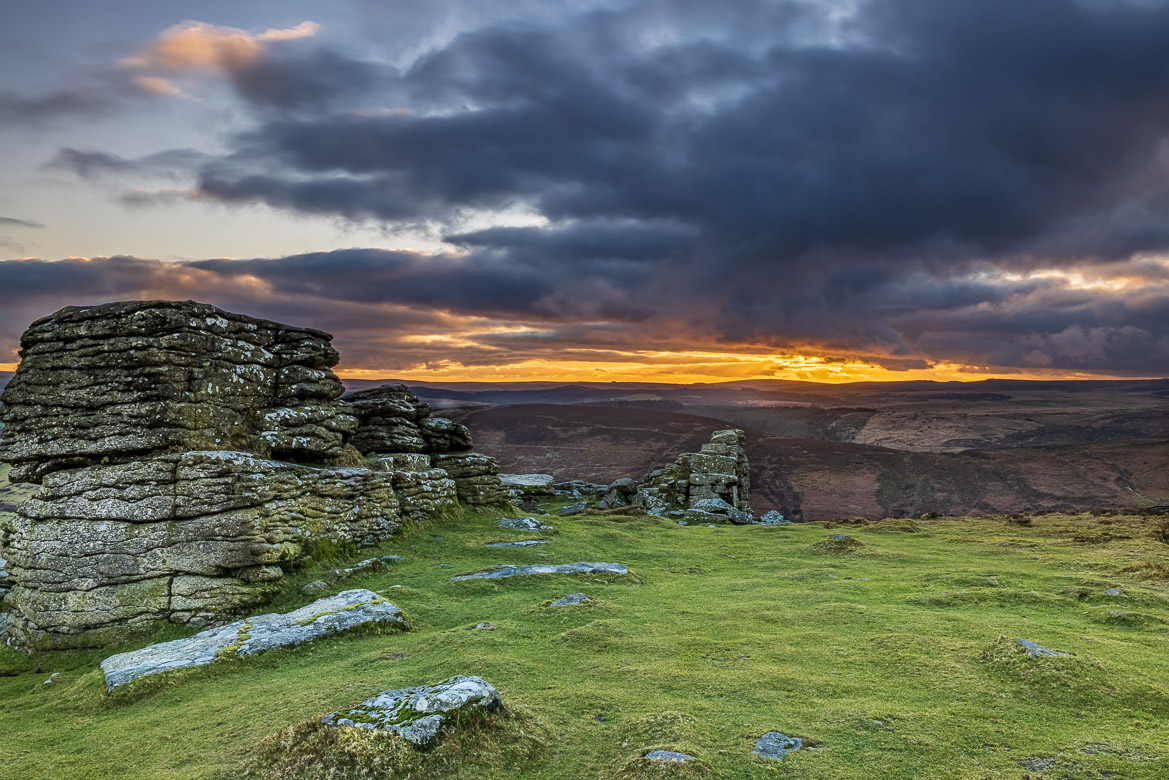 At the end of last year I tried to document some of the many clapper bridges on Dartmoor, see my portfolio about Dartmoor Clapper Bridges. One of the places I visited was Grim's Lake, a small stream in the central parts of Dartmoor. Looking up to the north I could see the intriguing Tor, Hookney Tor, with a few promising granite blocks rising at the top, but the light wasn't right for a visit, so I decided to come back another day.
When I returned large, heavy clouds were hanging over the sky, but an opening next to the horizon looked promising, and I was patiently waiting (and those who know me, know that I'm not normally that patient) for the sun to appear in that window. But just as it was about to happen, more rain clouds swept in and covered up the sun. But I captured this image above just before sunset and felt the drama in the sky merited its inclusion in this post.
But the forecast promised nice conditions the following morning, so I ventured out before sunrise the next day and got the photos of different granite boulders and the moorland beyond bathing in the early morning sunshine.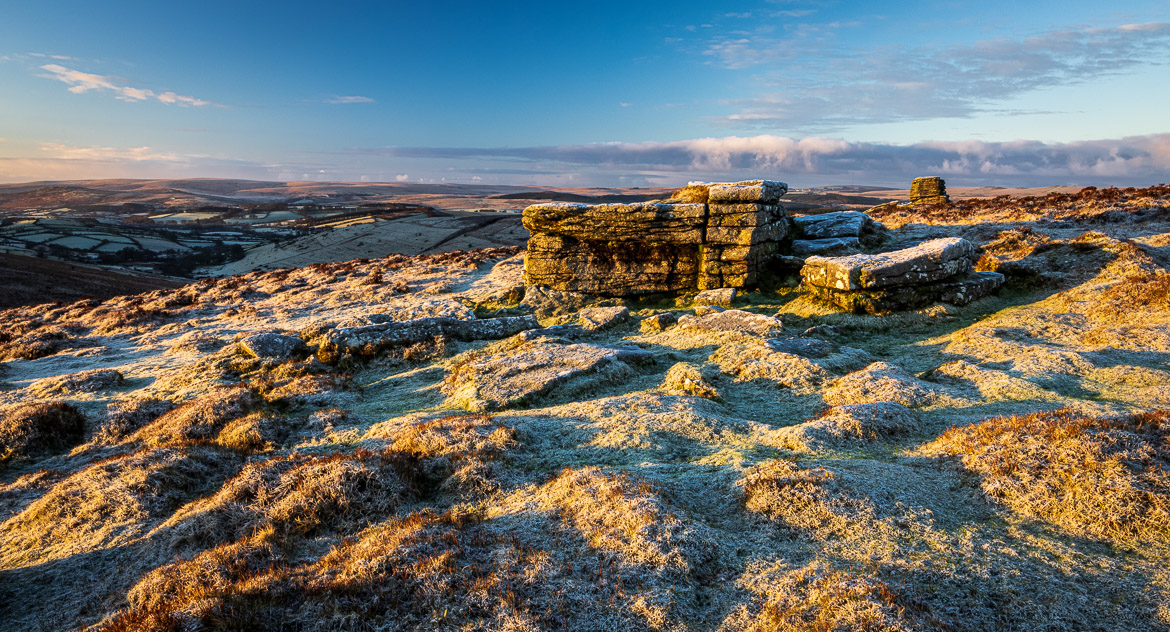 The images here are all taken from the top of Hookney Tor looking out over the moorland to the west and south. The first image was from my evening visit and the others are taken during the first hour after sunrise on my second visit. All of them in December last year. You can see the frost on the ground and on the granite blocks in the sunrise images.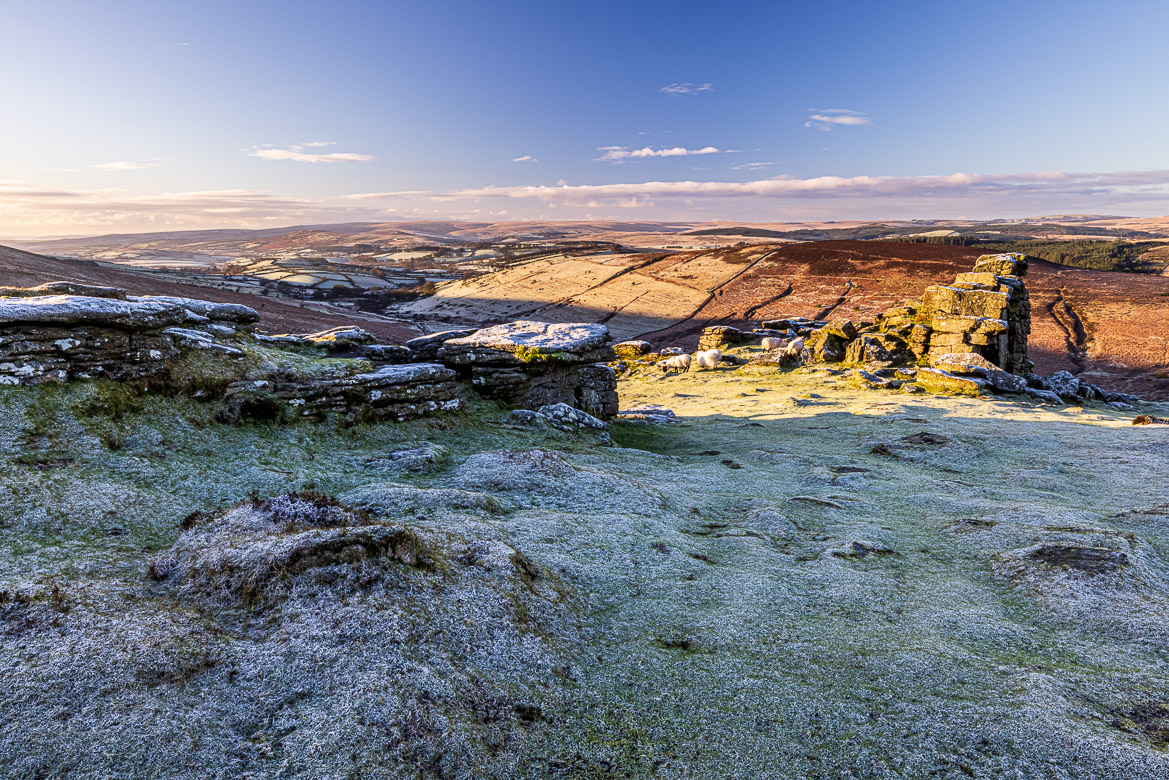 In the next image we are looking south into the valley of West Webburn River. Further south the river meets up with River Dart, and at the confluence of those rivers I have captured several photos, some of which can be seen in my portfolio, Dartmoor Rivers.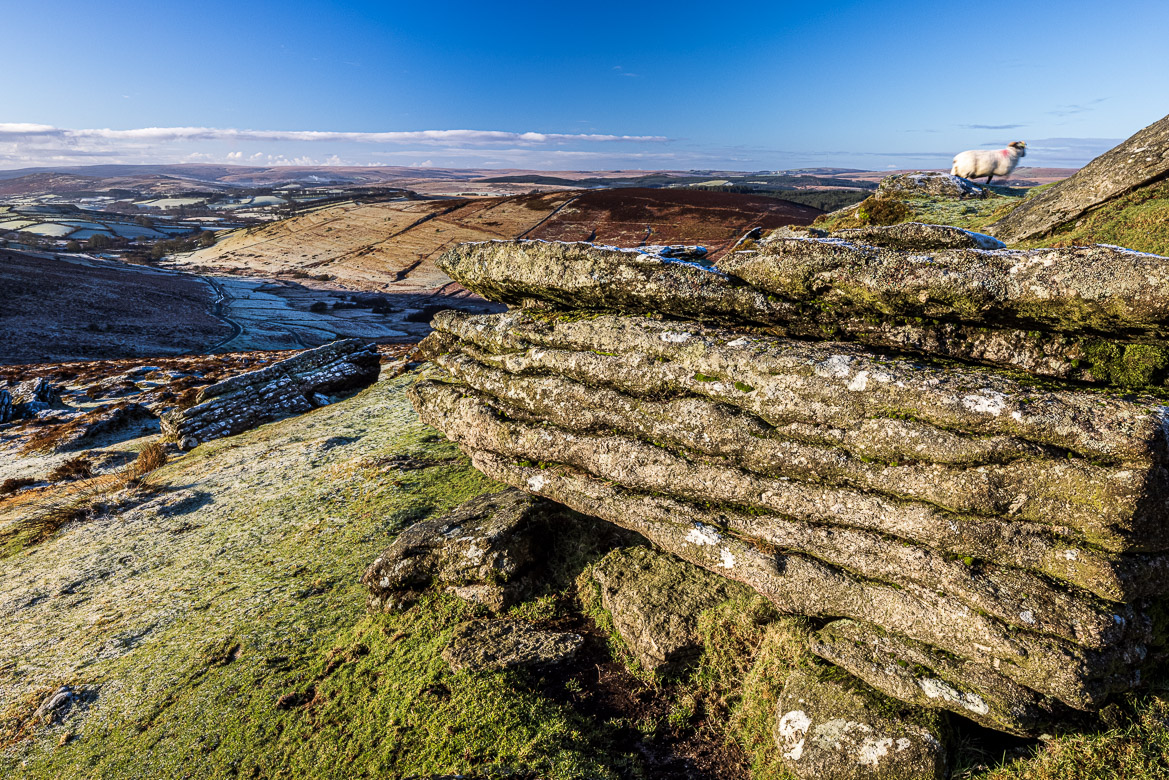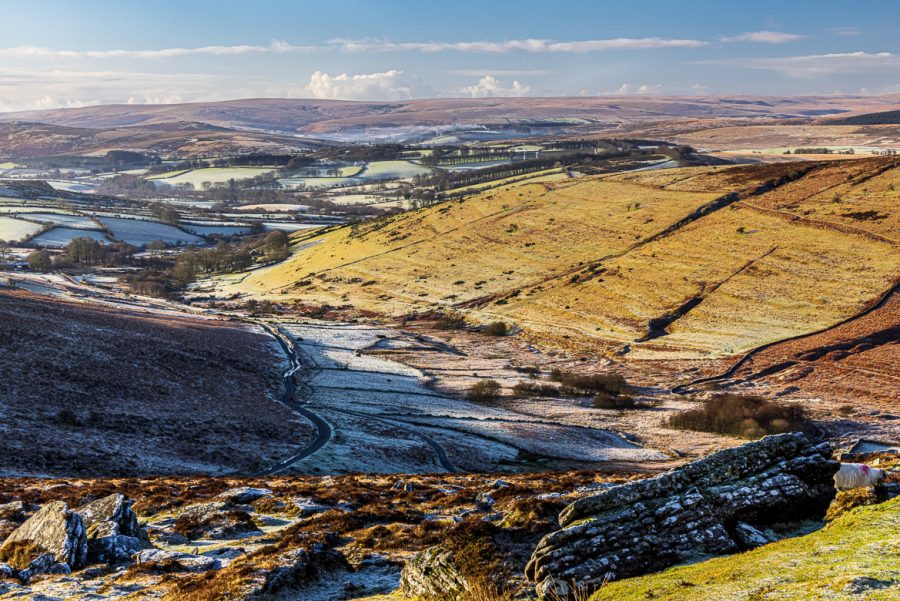 Looking straight down into the valley of Grim's Lake (the image below) we can see the Bronze Age settlement of Grimspound, one of the best known and preserved prehistoric settlements on Dartmoor. It dates from the late Bronze Age period (around 600 BC), but may have been occupied long before that. A large stone wall around 1 metre in height and 3 metres thick protects the settlement, and inside it 24 stone huts have been found. The wall and several hut circles (but not the actual walls or roofs) have been reconstructed in Victorian times together with the surrounding wall.
The location of Grimspound in between two higher tors (Hookney Tor and Hameldown Tor) indicates that the wall wasn't built for defence purposes, but rather to keep either livestock inside and/or prevent predators from attacking the people in the village. Grim's Lake runs through the northern part of the settlement, and the availability of fresh water is probably the reason for the location.