Introduction
Jennifer has dreamt about a trip to Japan a long time and neither of us had been there before. We wanted to pay a visit either in the cherry blossom season in spring or the period of the autumn colours to experience and photograph the countryside and the gardens. And above all we were aware that it would be a cultural experience with new food, new values, and new behaviour teasing all of new senses.
We had our travel plans a long time, but it took more definite form, when we started a conversation with Inside Japan Tours. They suggested we team up with a photographer, Everett Kennedy Brown, originally American but based in Japan in the last 30 years. Everett's favourite camera is a collodion camera from 1870 capturing onto glass plates. But thankfully he only brought a new iPhone with him for our trip together! Everett has exhibited internationally, but his appeal to us wasn't only his photographic experience but above all his cultural understanding of Japan.
He is married to Junko, a former geisha, who is often dressed in a kimono. She had studied at Sorbonne in Paris, so both of them could bring us an insight into Japanese culture in relation to Western values and experiences.
Everett was with us during 8 days of our 2 ½ week trip in Japan and we met Junko in Kyoto, where they lived. And through Everett we were introduced to other families in Japan, to aristocratic, traditional families in old and draughty manor houses and middle-class families in tinier, but equally flimsy houses, where children had spread toys all over the house. We stayed in Ryokans, country inns where you slept on a mattress on the floor that they rolled out for you in the evening, and in Tokyo and Osaka at traditional westernised hotels.
You cannot cover more than a tiny amount of Japan in 2 ½ weeks, and we wanted to focus on the countryside and the traditional culture rather than modern city life, but we started with one day in Tokyo and finished with another afternoon/evening in Osaka.
The first slide show, underneath here, shows a few images from Tokyo and Osaka. Thereafter we have a "chapter" about the mountains, the Japanese Alps, which are not quite like its European namesake, but it is still hilly and snow covered the mountain tops. The highlight was the many traditional villages.
I have made a separate chapter about the food. A culture shock for us, who thought that we knew a little about Japanese cuisine but found that was far from the truth.
And then we spent lots of time along the coastal areas of northwest Honshu, the main island, where both Tokyo and Osaka are situated, starting in Kanazawa. We focused on two areas, Kanazawa and the Noto Peninsula first and then Matsue and the coastal areas around this traditional part of Japan, with lots of important history.
But in between those two areas we visited Kyoto, which both Jennifer and I regarded as the highlight of our visit. Partly because of its history as a former capital of Japan with such an interesting culture and many beautiful gardens and temples, and partly because of the welcome we were given in Kyoto.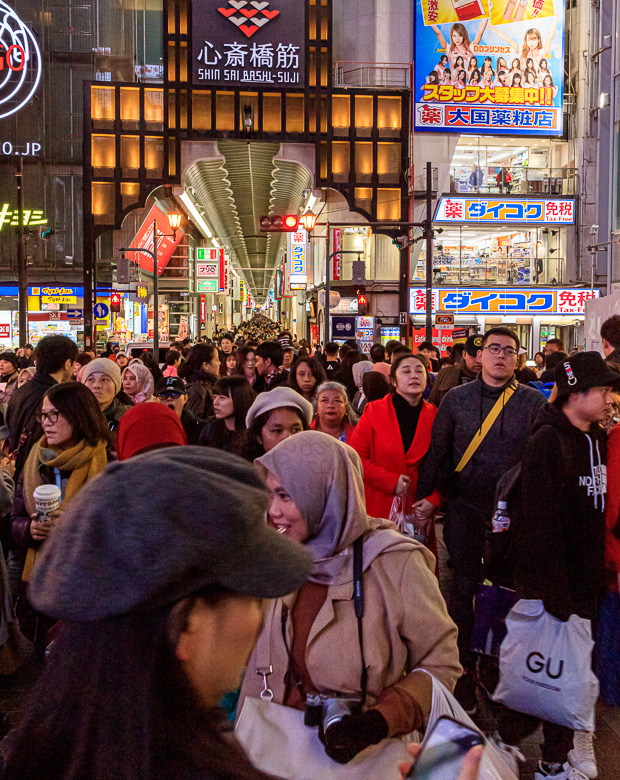 How to Read the Story
The story is divided into six "Chapters" starting below with a few images from Tokyo and Osaka. After an introductory text comes a slide show and then follows the next chapter with text and slide show and so on. There is a lot of information in the captions underneath the images, but those captions are only possible to read, if you view it on a computer. The captions are not visible on smart phones or iPads or similar. And the images certainly benefit from being viewed at as large a screen as possible.
Each slide show is at the end of the chapter and is marked by a heading in italic giving the name of the slide show. In each slide show, you have to move manually from one slide to the next using the small arrow keys at the right (for moving forward) and left (for moving backwards) of the image.
The Cities
We spent most of our time in the countryside and in Kyoto and Kanazawa, due to their cultural interest. But we arrived into Tokyo and departed from Osaka, so first a few images from those cities. In Tokyo, jetlagged as we were after our flight from Europe, we took a walk around the Imperial Palace and its gardens and moats. The same weekend as we arrived, the new emperor was celebrated by a special welcome ceremony, and television crews and a large number of devoted visitors were already assembled nearby and our hotel was situated just beside the Palace gardens.
In Osaka we did something entirely different. Guided by Richard Hawkins, a chef and restaurateur, we were taken on a tour through the street food scene of Osaka and visited half a dozen different food stalls, all very simple, but with the most delicious food. I have more images about that, in our food "chapter", but here I show some glimpses of an evening in Osaka.
…
Slide Show 1: The Cities
…
…
The Mountains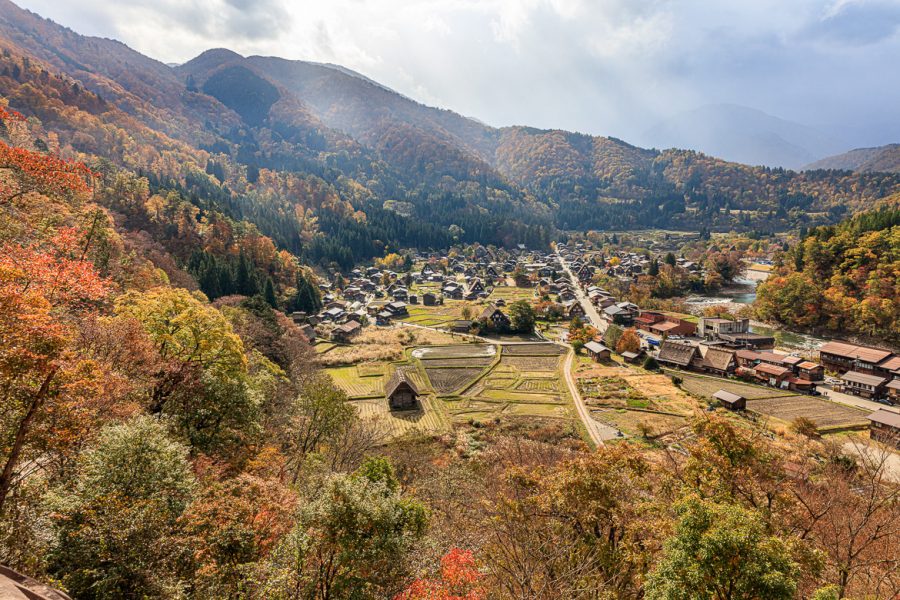 We left Tokyo the next morning taking one of their fast bullet trains, Shinkansen, up into the mountains. We stayed in a small village, Hida Furukawa, not far from the much larger town of Takayama. Our
ryokan
(a traditional old Japanese Inn) was situated next to a canal overlooking a temple on the other side of the canal.
The first culture shock hit us. No beds in the hotel. When you are jet lagged and want to stretch out, there is nowhere to lie down until the mattresses are rolled out on the floor, while the guests are having dinner. And you can only join the restaurant dressed in traditional Japanese clothes. And, of course, no shoes inside the ryokan. And no wardrobe or drawers to unpack your clothes. But we had our own private onsen, or bath with spring water that was always flowing into the tub. And they had also public baths, separate for men and women.
The ryokan looked small from the outside, but inside a number of different corridors led to rooms or rather suites, living areas, bath areas and bars and restaurants. The next shock was that you eat privately, so Jennifer and I were shown into our own private dining room. For us that see a meal out as a way of seeing other people, the privacy of dining in Japan was different. And we had nearly every day a traditional meal of at least 10 courses and some of the courses consisted of several different dishes. And most of them we couldn't recognise and the explanations in English didn't help us that much! See more in the following chapter about the food.
Hida Furukawa had a series of canals cutting through the little town. The houses were wooden and several temples with small gardens interspersed with the canals and streets.
Neighbouring Takayama was as busy, full of tourists, as Hida Furukawa was calm and serene. The building style of the wooden houses was similar, but in Takayama nearly every house in the old quarters had been converted to a shop or restaurant for tourists, mainly Japanese from other areas that wanted to come up to a mountain town.
Just outside Takayama was Hida Folk Village, which was built up by old farmhouses that were moved to one place to create a museum. We visited, when the autumn colours were as its best (we felt) and loved the walk around in the afternoon sunshine. The following day we visited another old village with lots of thatched houses including a couple of houses that we could enter and see how they functioned.
They had always a fireplace centrally but no chimney. The smoke filled the house and served an important purpose in preserving the wood. Upstairs in the larger houses they had silkworms and weaved silk and they brewed beer and made sake. The houses were like our ryokan, minimalist with flimsy walls but large and elegant rooms with the Japanese ethos of "less is more" expressed everywhere.
…
Slide Show 2: The Mountains
…
…
The Cuisine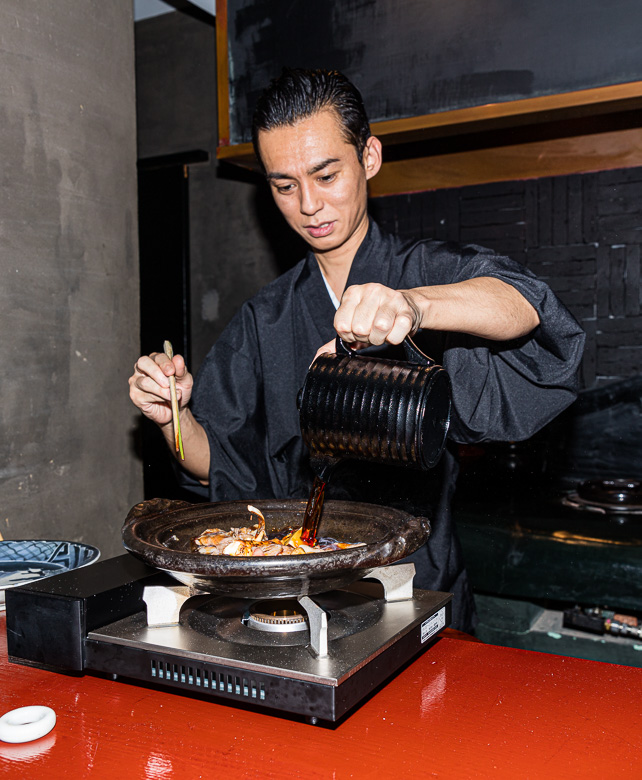 Jennifer and I thought we knew a little about Japanese cuisine like we do about most Asian cuisines. And we liked it. We were completely wrong in the first point. We knew about Japanese and Western fusion cuisine adapted to a Western palate. We knew next to nothing of classical Japanese food. The traditional meals at ryokans and other restaurants with so many courses. The texture that was so different from what we are used to with many soft, tofu-like dishes, where the ingredients were difficult for us Westerners to distinguish.
Kanazawa was a delight to visit. Not only was our ryokan, Ryokusone (with only 7 rooms) offering the most fantastic menus, adapted to our wishes (we wanted snow crab that were in season and their famous beef). We also had a fabulous sushi experience at a restaurant with only 11 seats around a counter, where four chefs prepared each sushi delicacy in front of us and presented it while we were eagerly awaiting with our chopsticks ready for the slaughter of the beautifully crafted sushi.
The beef was a pleasure to eat. Kobe beef, Wagyu beef, Noto beef, all marmorated (see my pictures below) to give it a unique flavour. And, of course it cannot be any different. With the cows fed beer and being massaged each day, happy cows and good beef is more or less guaranteed!
In Kyoto we had tempura one night and teppanyaki another night creating a variety from the long set menus of the traditional ryokans. And the third night in Kyoto, Junto and Everett brought us to a vegetarian restaurant situated in a converted temple. A very memorable experience, although the vegetarian dishes were entirely different from what we were used to, and the texture a little bit difficult for our palates to accept.
In Matsue we stayed at a ryokan, which must count as one of the best hotel experiences Jennifer and I have had in our entire life (Yes, that is true!). We asked them to cut down on the number of dishes and instead give us some top-notch quality dishes and we got a special menu of only six or seven courses (!) but with lots of snow crab and the most fabulous wagyu beef. And it came with a service that was second to none!
We stopped at an island, Yatsukachoeshima, where one of Everett's friends managed a garden created by his father and they welcomed lots of visitors. He insisted on giving us a lunch, which consisted of a "simple Bento Box". I have displayed it in the slide show below, and it was the most exclusive Bento Box that Jen and I have ever had. We set overlooking the beautiful garden (see the slide show of coastal Japan) sampling the delights of which we without the help of Everett could only guess what it was we were eating.
And to top it up, we finished our Japanese experience being guided around the Osaka Street Food Scene by an expert guide, Richard Hawkins, whose wittiness was only outclassed by his knowledge of food and Sake. What a dream finale of our new cultural experiences.
…
Slide Show 3: The Cuisine
…
…
The Coast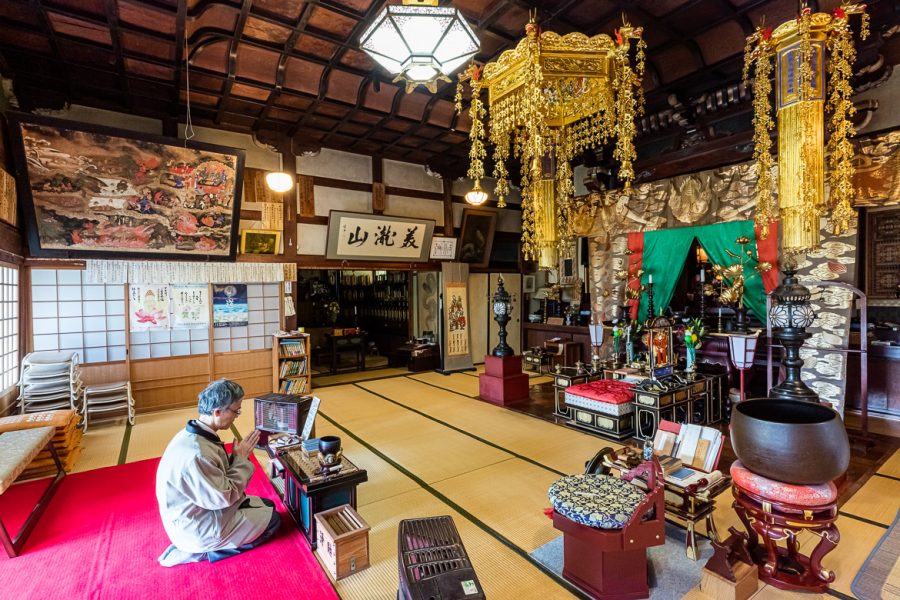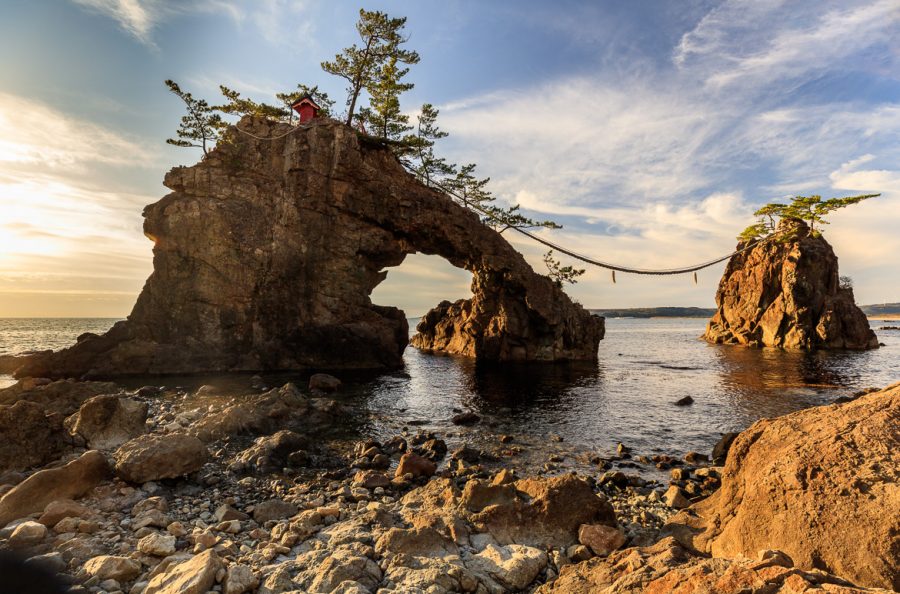 Kanazawa and Noto Peninsula
We started in Kanazawa and continued out to the Noto peninsula for three days. Then after another three days in Kyoto we continued to Matsue further southwest along the coast and saw the coastline and the fishermen on the lake and more gardens.
In Kanazawa we visited the old samurai quarters and their houses and the famous garden of Kenroku-en and the geisha quarters. One of the few places apart from Kyoto, where samurai houses and geisha quarters are still preserved. From there we went to the Kanazawa Castle.
Then we drove north in our rented car out towards the Noto peninsula visiting the Keta Taisha Shrine and the Myojoji Temple with its pagoda. We stopped at the town of Wajima and visited a well-known artist, Hikoju Makie, in his home, working with lacquerware and exhibiting through the world including the V&A in London. Apart from admiring his art, this also gave us a possibility to visit a "normal" home and see how they lived. This was all due to Everett's personal contacts with the artist and his family.
In the evening we saw the Senmaida Rice Fields (see photos) before arriving at our ryokan, a very exclusive place overlooking the dramatic coast and with its spring baths in a cave and a large infinity pool. And the next morning Everett and I ventured out before sunrise to capture the Mitsuke-Jima island, which looks like a battle ship about to ram the coastline.
We drove back to Kanazawa, left our rental car, took the train to Kyoto (separate chapter of our story) and then after three days another set of trains to Matsue and another three days of exploring another part of the coast.
Around Matsue
We visited fishermen at Shinji lake near Matsue and were guided not only by Everett but also the mayor of Shinjimachi town and were by the two of them led to a "secret temple" in the forests above the temple. Exciting shrines hidden away in small caves and niches in the granite mountains, but the main shrine with its medieval painting of Hell, reminding me of how we Christians depicted Hell in medieval times.
The mayor also brought us to an original manor house in Shinjimachi as well as a local middle-class family, where the lady of house performed a traditional tea ceremony for us. It took place in a tiny tea house in the equally tiny garden of their home. The middle-class home was small, warm and welcoming but the manor house was impressive, large and cold and in traditional Japanese style with very little furniture.
Jennifer loved Persimmons and although they are difficult to find in England, they grew in abundance here and Jen wanted very much to see a Persimmon grove, so with the help of Everett we ventured out to a persimmon grove and met some friends of Everett. We saw them harvesting the fruit and drying it. They are either sold fresh or dried and preserved for a long time.
In the afternoon we came to the island of Yatsukachoeshima, where a Matsue warlord had fled after being defeated by the Shogun. In modern times they have created a beautiful garden on the island that now employed more than a hundred people and provided conference facilities and offered tours around the gardens. The father of the present owner created the gardens and the proprietor was a good friend of Everett and took good care of us and showed us around the fabulous garden.
The next day we ventured out to Mihonoseki, a fishing village which combined traditional temples and shrines with the ugliest more modern architecture – an eyesore that was contrasted to the beauty of the temple, where every morning a ceremony took place with a young priestess dancing and the priests reciting some ancient texts.
It was virtually unknown by tourists and the only visitors were a few Japanese, who prayed and pay their respects and for Jennifer and me it was a very solemn moment of reflection, although we didn't understand the intricacies of the ceremony. The maiden/priestess was accompanied in her dance by musicians.
…
Slide Show 4: The Coast
…
…
Transport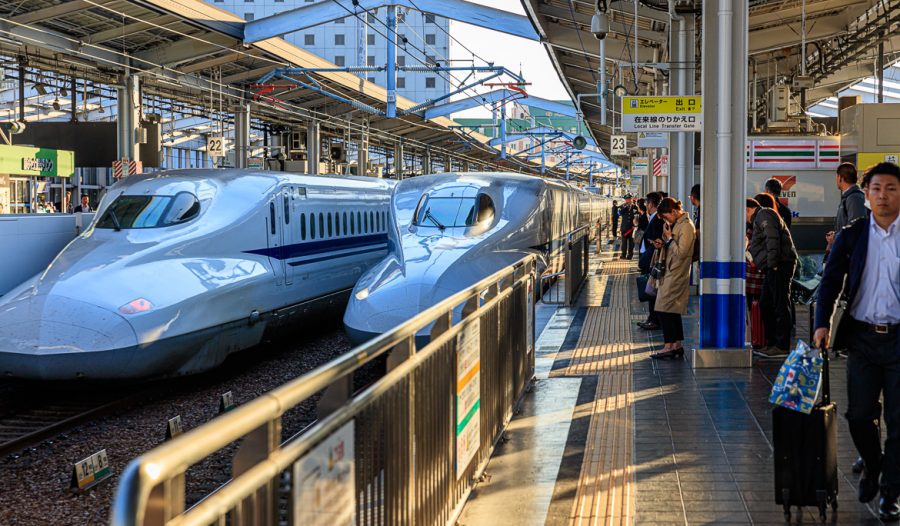 We travelled by train to the different places and rented cars along the coast, both around the Noto peninsula and around Matsue. We also had a driver taking us to the mountain villages that we wanted to see.
The train stations were very modern with an attractive architecture. And the bullet trains, Shinkansen, were fast, reaching a speed of 300 km/hour, and very comfortable. They reach their maximum speed in just 3 minutes. And everything very organised at the stations. The cleaners were waiting for the train to arrive, one cleaner for each carriage, standing at attentions before they stepped on board and lining up in front of their supervisor afterwards bowing to him. And all the passengers were queuing in a way that would make British train passengers looking very disorganised.
…
Slide Show 5: Transport
…
…
Kyoto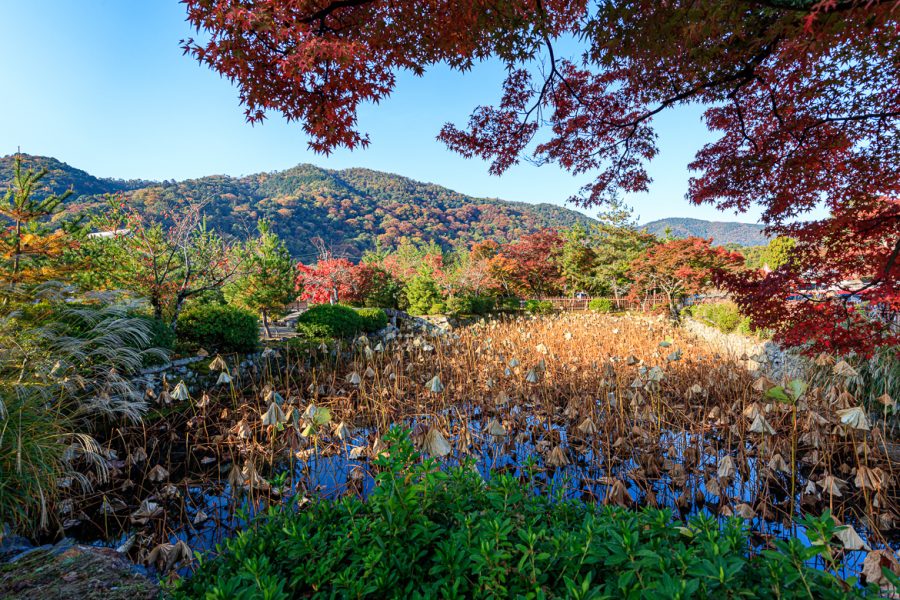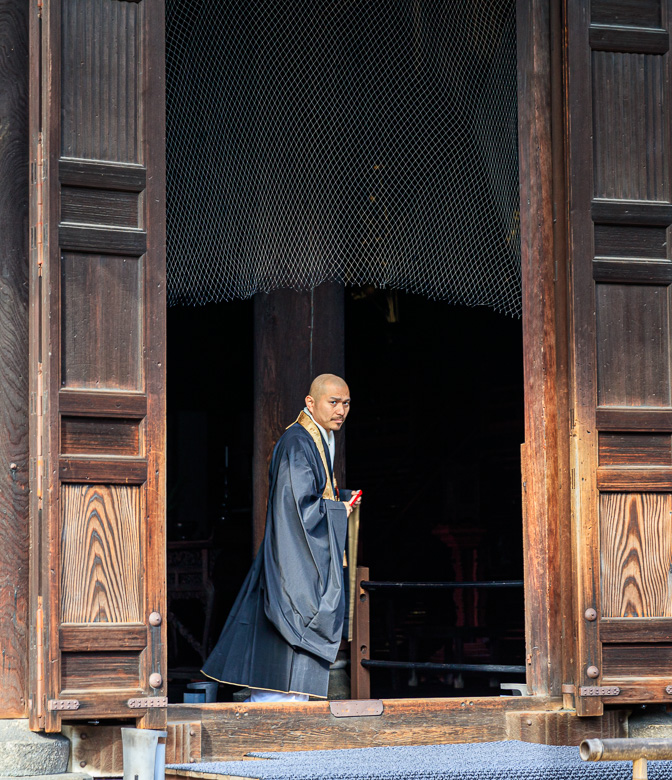 Kyoto was probably the highlight of our visit to Japan. Partly because it is such a beautiful place with its temples and shrines and party because Everett and Junko, living there, could introduce us to places that we otherwise wouldn't see and be welcomed in private homes.
We started at Fushimi Inari-Taisha, a mountainside shrine complex with thousands of torii gates leading up the mountain. We visited early morning to avoid the crowds and be able to photograph it in more solitude. But even so, it was lots of people their already at sunrise. The passage from the main shrine to the shrine at the top of the mountainside is 4 km long and is flanked by thousands of Torii gates that companies have donated to the temple. Each gate has the names of the donator and the date they were erected.
In the afternoon we visited the Saiho-Ji temple and its famous moss gardens. In order to gain entrance, you have to book far ahead and in the temple you have to perform a calligraphy test, before you are allowed entrance into the moss garden. Afterwards we strolled along the paths of its famous moss gardens with hundreds of different kinds of moss. In the dappled sunshine and with the leaves turned red in the autumn, it was a very serene and beautiful experience.
We finished the day with a visit to the Toji temple and pagoda at sunset. The temple was founded in 794, but the present pagoda is from 1603 and at 55 metres tall it is the largest wooden pagoda in Japan. It is the main headquarters of Shingon Buddhism and the city's religious foundations were laid here. And after that we had dinner at a tempura restaurant.
The next morning we visited the famous large bamboo groves at Arashiyama and the temple of Tenryu-ji with its beautiful gardens and then we were invited to the hashimoto estate, where Ms Hashimoto received us. Her father had been a famous painter and they had a museum with some of his paintings in a part of the garden. But we were invited into the manor for a traditional lunch and afterwards Junko, Everett's wife, performed a tea ceremony for us and posed for some traditional images of a geisha in her kimono.
In the evening we had dinner with Junko and Everett in a converted temple, where they only served vegetarian food. And the next morning we continue to Matsue, which I have told about in the previous chapter.
…
Slide Show 6: Kyoto
…
…
Thanks and Credits
Jennifer and I had talked about a trip to Japan for years, but neither felt quite happy with the program, nor did we trust ourselves enough to plan and execute it without help. Then Jennifer stumbled upon
Inside Asia Tours
(through a cooking magazine) and Julia Anukam helped us plan the trip based on our ideas. But it was only when Everett Kennedy Brown entered the picture with his experience of photographing Japan and his knowledge and understanding of the culture that the magic really came into fruition. And the addition of Everett's wife Junko, with her understanding of both Western and Japanese culture and considerable charm as the epitome geisha, deepened our understanding of Japan.
Guides like Natsuko Shinkura in the Japanese Alps and her ideas about food in Kanazawa helped us a lot and Richard Hawkins tour of street food in Osaka made a worthy finale of our experience. The possibility to meet a first class artist like Hikoju Makie, be guided by the mayor of Shinjimachi, visit a persimmon farm, been taken on a personal garden tour by its proprietor at Yatsukachoeshima, it all added to our experience and made the photography more interesting.
Thanks to all of you for your contributions to our experience and to this story.