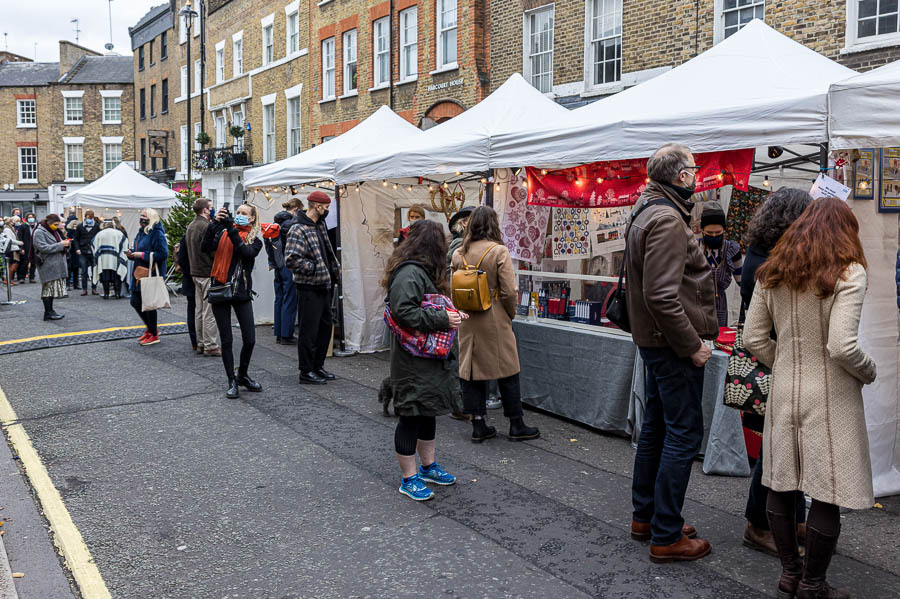 The Swedish Church has always had a Christmas Fair at its church at Harcourt Street in Marylebone in London. But this year it had to be done differently due to the pandemic. The church decided to try an outdoor bazaar instead and got permission to close off Harcourt Street during this weekend. And all the traditional stalls moved outside into the street.
I went up to pick up Mikee that finished her autumn term at Haileybury and we spent Friday afternoon and Saturday in London. We had (the obligatory) dinner at Sexy Fish and went to the Church Fair on Saturday, where we met up with Anna and Andrew. Anna is the new General Secretary of CLC (the Council of Lutheran Churches), where I am active. Anna starts formally on Tuesday, so this was a good introduction to the activities of one of our member churches.
A long queue formed at the entrance, where Katarina (the vicar) charged a tiny amount in entrance fee and then the stalls offered all the traditional Swedish Food and some typical Swedish Christmas decorations.
I bought Christmas ham for Knightstone and for Susanne and Dave in Dorset and Gravad Lax from Duncan, while Anna had to try the famous Swedish Cinnamon buns.